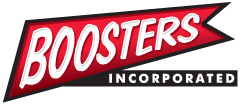 We started with just four employees and, to our amazement and thanks to our customers, Boosters has become the oldest family owned company in the industry and the leader in game day ribbons
Montgomery, Alabama (PRWEB) February 06, 2013
In 1962, Boosters Incorporated's founders, HD Parks, along with four employees, developed school spirit ribbons and sticky tops and received an incredible response from customers. Fifty years later, the company has expanded to carry over 200 different products for high schools and elementary schools to celebrate their school spirit and cheer on their favorite teams.
The company has grown beyond what the founders hoped. "We started with just four employees and, to our amazement and thanks to our customers, Boosters has become the oldest family owned company in the industry and the leader in game day ribbons," said Wylie Parks, CEO.
Today, Boosters is uniquely a full service screen printer with the ability to print school names and mascots on everything from mini footballs to megaphones. The items carried are not only for school spirit – the schools can use Boosters' items to raise money for fundraisers too.
According to Parks, a lot of the older products like painters caps, bandanas, plastic sunglasses, and bumper stickers still remain popular today. Boosters' bestsellers include: spirit ribbons, shaker poms, rooter poms, foam fingers, buttons, Mardi Gras beads, mascots, stadium cups, and megaphones.
"Boosters keeps up with the new fads while at the same time keeping those core products that the company was built on." The company continues to add new products to its line. More and more, technology plays a part in the trends, giving people new ways to show support for their school and teams. In response to its customers' needs, Boosters will soon come out with new school spirit items for cell phones, including spirit items such as speakers and ear buds.
When asked what the next 50 years will bring, Parks said, no matter what fads come and go, "we will strive to meet all of the needs of our customers and continue to be the leader in the industry."
Based in Montgomery, Alabama Boosters has been family owned for three generations. For more information about school spirit products offered by Boosters, visit their website at http://www.boostersinc.net or call them directly at 1-800-633-1906.