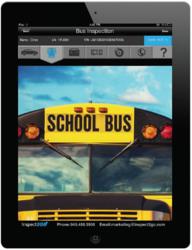 School Districts Save Money and Improve Safety with Mobile Apps
Los Angeles, CA (PRWEB) November 14, 2012
Inspect2GO (http://www.inspect2go.com/school/) announces November/December discounts for its school safety audit software. Perform food safety inspections on school kitchens, vehicle inspections for buses, safety inspections throughout school grounds, or custom audits per customer supplied checklists. Print inspection reports on location, or save data to a server for analysis and document management. The software runs on various mobile devices, including smartphones and tablets powered by Apple iOS (iPad and iPhone), Android or Windows 8. The software is not sold on iTunes or the Android Marketplace. Instead, customers contact Inspect2GO directly to discuss their needs. The applications can be configured to meet the unique requirements of each school district.
Mobile Devices

Android (Samsung Galaxy phones and tablets)
iOS (iPad and iPhone)
Windows 8
Specific Audit Software

School Kitchen - Food safety, haccp, sanitation, school lunch, nutrition and health inspection (video example http://www.youtube.com/watch?v=OejZmLDg6mU&feature=plcp)
Janitor – Maintenance and custodial work (and housekeeping) assessments (video example http://www.youtube.com/watch?v=_2bdJZxga5s&feature=plcp)
Vehicles – Auto/Bus service and safety inspection checklists
Property – University campus and K-12 school building and facility inspection
Safety – Playground, OSHA, EHS and other safety inspections
Williams Act – FIT for California school districts
Features

Data Entry – Photos, notes, checkboxes and data entered in the field via native application on tablets or phones
Reporting – Auto-generation of customizable PDF reports with school district logo
Scoring – Weighted audit scoring and assessment based on percentage or custom points scale
Analysis – Server side data analysis, performance trending and graphing
Prices

November/December 2012 discount applies to the setup price
Pre-discount setup price varies from $999 to $2,999
$49/month/device user license
Prices increase with advanced features such as cloud database search, document management and inspection data graphing
ABOUT INSPECT2GO
Inspect2GO, Inc. is a mobile application, cloud database and software development company based in Southern California. The firm's mobile technology includes inspection checklists and native apps with signature, photo markup, custom reporting, automated pdf generation, weighted audit rating/scoring, statistics, charting, graphing, document management and database functions. The software is compatible with Apple iOS (iPhone, iPad), Windows Mobile and Android tablets/phones. Inspection results are sent to Inspect2GO's cloud database, or to customers' servers for storage. Reports, graphs, trends and data feeds can be retrieved from the cloud server via a browser-based web portal. By contacting Inspect2go directly, customers are able to have the software tailored to meet their unique needs.