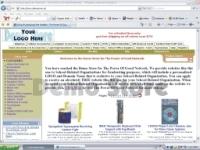 Shop, Save & Support Fundraising
Champaign, IL (PRWEB) February 6, 2008
It is not a big secret that as the economy slows, the need for Schools to do more fundraising is putting a huge burden on parents at a time when parents are in need of a break. The worst news may be that this situation will most likely get worst because many schools rely on property taxes for funding.
Since the Real-Estate market is in a major slow down and foreclosures are skyrocketing, many schools can expect less tax revenue headed in their direction; and many parents are starting to say enough is enough with traditional fundraising. So now what? Well, a company called The Power of Good Network Inc. has a solution that may not solve this problem; however, it can play a major role in helping School Organizations and Parents deal with the current situation.
"We at The Power of Good Network Inc. are hoping our program will be a major step in the right direction for the future of School Fundraising. Some of us Parents are tired of buying Cookie Dough, Candy, and Gift Wrap for several times the price of the Grocery or Department Store and waiting up to 8 weeks to actually receive our orders," said the Founder and CEO Marshall Jackson Sr. "We understand there is a need for traditional School Fundraising when that is all that is available and actually feel Parents should continue to support the programs if they can afford to. As far as we can see, the need for School Fundraising is not going to change; however, the way Schools raise money is going to have to be more creative, productive, and less taxing on the Supporters/Parents. This is why we created a Free Online Fundraising Program exclusively for School-Related Organizations."
The Power Of Good Network Inc. will provide School-Related Organizations with Free Fundraising Websites stocked with discount priced products. The Power of Good Network Inc., calls this concept "Shop, Save & Support Fundraising", which translates into Parents/Supporters Shopping and Saving online while they Support a School Organizations Fundraising efforts. Basically, The Power of Good Network Inc. has combined the popular discount Dollar Store concept with Fundraising.
The Power of Good Network Inc. believes if School Organizations offer their supporters good prices on quality products that are similar to the items they normally purchase in a local discount store, and the School Organization receives 30% of all product sales, everyone comes out a winner. This way the parents will not feel the burden of having to buy products they feel are over-priced or are useless to them in many cases. Also because the Fundraising will be done online, it can eliminate some of the headaches normally associated with School Fundraising, including handling money and orders, unsafe door to door sales, and time management to name a few common Fundraising headaches.
To make a long story short, The Power Of Good Network Inc. was founded by a Parent that feels there is a need for immediate change and is run by Parents that say they really care about how we teach and provide our Children with the tools they need to have a fair chance in today's changing world.
Founder and CEO Marshall Jackson Sr. said "Many of the School programs that are being eliminated or cut are essential to building confidence and character in our Children. It seems like one thing we should all be able to agree with, regardless of our Politics, Race, or Gender, is teaching and giving our children the resources they need to succeed in life not just from a financial perspective but from an overall productive, positive, personal perspective. So while the various levels of Government take their time figuring out how to actually fix this problem once and for all, we as Parents, Communities, and fellow Americans need to start doing something about it."
The Power Of Good Network Inc. has begun to accept applications for Free School Fundraising websites with custom Logos and individualized Domain Names. At this time, they are accepting up to 50 School Organizations per month. This program seems very exciting and may be beneficial to many School Organizations; however, it seems like their program may have both positives and negatives.
Besides some of the positives mentioned previously, the sites are managed by The Power of Good Network Inc. so more focus is put on promotion verses management of Fundraising, supporters get low prices while the school gets 30% of all product sales, the program opens the door to more long distant family/friends supporters, and it allows for Year Round low pressure Fundraising, supporters receive their orders in days instead of weeks or months, a great incentive program primarily based on cash cards to name a few that seem like obvious positives.
Some of the negatives are, even though these sites may open the door to more long distance supporters, everyone doesn't shop on the internet so that could neutralize some of the possible increase in support, every School Organization will not be accepted right away or may not be accepted at all; and because this is non-traditional Fundraising, it may draw some resistance from less proactive PTA/PTOs.
For additional information about The Power Of Good Network Inc. and specifics about their Fundraising Program visit their website at http://www.powerofgoodnetwork.com.
###