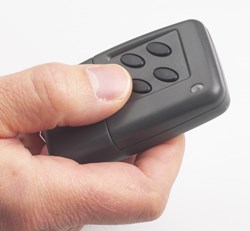 School Panic Button technology arms our children's teachers with a formidable response 'weapon' that can significantly aid in the mitigation of a tragic event" said Howard Ryan, Founder SchoolPanicButton.com
Chatham, New Jersey (PRWEB) February 25, 2013
Desktop Alert Inc., a Homeland Security award winning New Jersey based mass notification company selected by FEMA, the National Guard (NGB), the Air National Guard (ANG), NORAD, U.S. Northern Command, U.S. Defense Threat Reduction Agency (DTRA) and numerous other U.S. military organizations including Fort Hood today announced it has introduced a product line of school panic buttons in response to the recent escalation of tragic U.S. school shooting events.
As recently reported by CBS News, "New Jersey Assemblyman Ralph Caputo said Monday that panic buttons should be a "mandate" for every public school in the state."
"Once the device is pressed an alert would be activated in 30 seconds or less. Such an alert would leverage the identical mass notification technology now used by the US Military nationwide. School Panic Button technology arms our children's teachers with a formidable response 'weapon' that can significantly aid in the mitigation of a tragic event" said Howard Ryan, Founder Desktop Alert Inc.
The panic buttons can be located on a wall, under desks, or in the hands of every teacher or staff member.
"Over the last 12 months, Google queries researching panic button technology have resulted in over 10,000 visits to our website. Our team has taken notice and responded with a formidable yet highly affordable solution for all schools big and small. Schools can be immediately activated on the system for as low as $5000.00 per year," added Ryan.
About Desktop Alert: http://www.desktopalert.net
Worldwide U.S. Military organizations such as U.S. Northern Command, The United States National Guard, The United States Air Force Academy, The United States Military Academy at West Point, Multi-National Forces in IRAQ and Afghanistan, The U.S. Air Force, The U.S. Army now utilize the Desktop Alert mass notification platform daily for their organizations emergency communication requirements. Desktop Alert can contact thousands of users with desktop alerts and require receipt confirmation of the message. Those not verified can then be listed on a report and/or sent as a "Target Package" to be automatically contacted by other means such as email, SMS, phone calls and other devices.