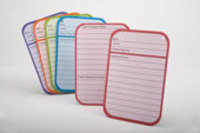 Melville, NY (PRWEB) September 2, 2008
It's Back to School time again! Parents and students alike can shop and save on the latest school supplies online at Pendaflex.com.
One thing is certain - when students begin a new school year, the paperwork will just keep piling up. To avoid the distressing notion of misplacing vital notes needed for an upcoming test, losing track of just about any other kind of school-related document, or figuring out how to impress your teacher, Pendaflex offers the following innovative solutions: Oxford Book Notes, The Pendaflex Back to School Kit and Oxford Print & Present.
Oxford Book Notes make note taking, studying and writing book reports a breeze. These stylish and functional 4x6 note taking tools are pre-printed with space for book title, page number, author and notes. Available in stylish colors, Oxford Book Notes make learning easy.
The Pendaflex Back To School Kit contains essentials to keep your desktop organized and your important materials within reach! Including the PileSmart Desktop Tray, Oxford At-Hand Sheet Protector Dispenser with sheet protectors, and European designed Leitz Allura Stand Up Stapler, it is perfect for classroom or home use.
And before you know it, students will be bringing home the most dreaded assignment: a book report! There is no better way to impress a teacher than to present reports in a unique, organized manner with Oxford Print & Present. It allows students to create their own custom reports with a desktop printer. There is no die cutting or finishing, and the results are perfect every time. Students who present their reports with Oxford Print & Present will leave a lasting impression on their instructors, and help them keep their reports organized.
About Pendaflex
Pendaflex is one of the world's premier manufacturers of organizational solutions, bringing innovation, efficiency and style to workplace and home settings. Committed to simplifying consumers' lives, Pendaflex produces a broad range of filing and organizational products, as well as provides solutions and resources through our website Pendaflex.com and PendaflexLearningCenter.com. Located in Melville, NY, Pendaflex is the principal U.S. brand of Esselte Corporation, a $1.2 billion office products company with subsidiaries in 28 countries and distribution in more than 120 countries.
###