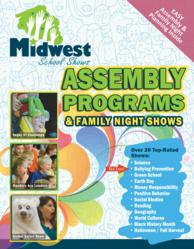 Each program featured in the guide has been carefully chosen for inclusion based on feedback from schools, program content, and professionalism and reliability of the presenter
Sterling Heights, MI (PRWEB) August 04, 2012
Midwest School Shows, one of the country's most trusted providers of live performing arts enrichment programs for schools, has just released a free guide of school assemblies to help enrichment program organizers schedule programs for the upcoming 2012-13 school year. The comprehensive 20 page guide features school assemblies on bullying, character building, science, social studies and the importance of reading.
The School Assembly Planning Guide is available in both digital and print formats at no cost to educators and PTO / PTA volunteers. A free .PDF digital download is available from the Midwest School Shows web site at this direct link http://www.michiganschoolshows.com/catalog.pdf or at the official Midwest School Shows' Facebook page. Principals and PTA / PTO groups can request one or more free printed copies of the school assembly guide by calling (586)913-3036 or submitting a request through the Midwest School Shows web site.
School assemblies by professional school keynote speakers and entertainers have become an important way for educators to continue the learning experience beyond the classroom. These live performances provide young students with valuable exposure to performing arts disciplines such as dance, music, magic, or comedy, while reinforcing curriculum topics and/ or character building expectations through morals and messages built into the show. The synergy of entertainment and education is especially appealing to elementary and middle school grades. In many school districts, hiring school assembly presenters to come in and speak to students has taken the place of more costly off-campus field trips.
The School Assembly Planning Guide is designed to be a "one stop" resource for any parent, teacher or principal who has been assigned the task of arranging educational enrichment assemblies for their school. Each program featured in the guide has been carefully chosen for inclusion based on feedback from schools, program content, and professionalism and reliability of the presenter. The carefully screening of shows takes all the guesswork and uncertainty out of hiring a professional school assembly presentation.
Bullying and positive behavior have become one of the most requested school assembly topics for schools from Ohio to California. The School Assembly Guide features four pages dedicated exclusively to helping elementary and middle schools find anti-bullying and character education presentations that are appropriate for the grade levels of their students. Topics, content, and educator reviews of each program are highlighted in the guide to allow planners to match a program with their positive behavior (PBIS) initiatives and anti-bullying talking points.
New programs added to the 2012-13 edition of The School Assembly Guide include "No Bully or Cyber Bully" and "Social Studies Blast".
"No Bully or Cyber Bully" is an interactive presentation that allows students to work through real life bullying scenarios while discovering the tools that they have to help put a stop to bullies in school and online. The show emphasizes conflict resolution skills such as walking away from conflict before it escalates, and getting the help of a trusted adult if you are being bullied or if you see someone being bullied.
"Social Studies Blast" reinforces social studies messages about community, diversity, and leadership through funny physical challenges that are designed for hands-on entertainment and learning. This exciting program recently returned from touring the United Kingdom is past spring, and Midwest School Shows is proud to make it available to schools in Ohio and Michigan.
Principals and PTO / PTA volunteers will also find the information and advice on getting discounts and grants for assemblies and enrichment programming especially useful. The valuable tips throughout The School Assembly Guide helps schools get the most value out of their enrichment and field trip budgets.
A woman-owned small business based in metro Detroit, Michigan, Midwest School Shows has been partnering with public and private schools and school districts across the United States since 2002 to provide quality, educational enrichment assemblies to their students. Their programs are part of the recommended assemblies of the Michigan Elementary and Middle School Principals Association, as well as being recognized by the state of Illinois as quality bullying and positive behavior initiative programming.
Although a majority of the presenters travel to Michigan, Ohio and Illinois schools, several of the assembly shows tour nationwide. For the 2011-12 school year, Midwest School Show performances were seen by over 250,000 students in 12 different states. Detailed program information is available at their web site and video previews of many shows can be seen and shared at the Midwest School Shows YouTube Channel.