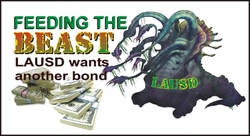 the multi-billion dollar school expansion is feeding a beast
Los Angeles, CA (PRWEB) October 20, 2008
The Full Disclosure Network® presents an exclusive ten minute Video News Blog report entitled SCHOOL BONDS FEED THE BEAST featuring officials and critics of the nation's second largest school district. In the name of public education Los Angeles Unified School District Superintendent David Brewer touts "the District's $20 Billion school expansion program is an Economic Stimulus Plan". Civic leader David Hernandez says "the multi-billion dollar school expansion is feeding a beast" that is dependent upon increasing tax revenue for continued growth. Former State Assemblyman Keith Richman reveals the extraordinary interest paid to bond holders. Plus, school finance experts note that state taxpayers must pay for matching funds on local bond projects.
LAUSD officials describe their reasons why another $7 Billion dollar school bond proposal on this year's ballot will be used. Appearing the ten minute Video News Blog with comments pro and con are the following:

David Brewer, Superintendent Los Angeles Unified School District
Monica Garcia, President Los Angeles Unified Board of Education
Guy Mahula, Chief Executive of Facilities Division, LAUSD
David R. Hernandez, Exec. Director San Fernando Chamber of Commerce
George Buzzetti, Los Angeles City Activist
Keith Richman, Former California State Assemblyman
Leslie Dutton, Moderator
At the conclusion the public is invited to participate in an opinion survey and to leave their comments on the following questions:
To view and participate go to the following URL: http://www.fulldisclosure.net/Blogs/59.php
1) Should all Californians vote on the LA Bonds too, since they pay matching funds?
2) Should the bond language disclose how much interest will be paid for the bonds?
3) Which should be the priority of the school district be: 1) educating the children? or 2) stimulating the economy?
Known as THE NEWS BEHIND THE NEWS Full Disclosure Network® cable and Internet videos provide coverage rarely reported in the regular news media.
Related Videos available on the following URLs:
http://www.fulldisclosure.net/Programs/half_billion_dollars_belmont.php
http://www.fulldisclosure.net/Blogs/50.php
# # #