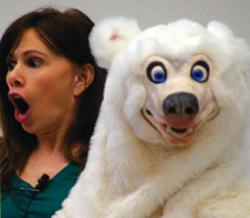 The company's goal is to have reached 1,000,000 students by the end of the school year.
Detroit, Michigan (PRWEB) September 28, 2011
One of the premier providers of performing arts & school assembly programs for schools, Midwest School Shows, is working with principals and parent-teacher groups to expand their offering of presentations that address the issues of bullying and positive behavior choices in elementary and middle schools. The initiative, which the company has dubbed "A Million Seeds of Respect" will officially launch on October 1st, the beginning of National Bullying Prevention Month across the United States.
The goal of the "A Million Seeds of Respect" initiative is to help more schools spread anti-bullying messages to their students. Midwest School Shows will offer two new school assembly performances, "You've Got Character" and "Bully or No Bully", and expand the lessons about respect and friendship that are already in their flagship bullying programs, "Super U! Challenge", and the "No Bullies and Friendship Skills Show". Additionally, the programs will now be available for presentations outside of the school day and for community wide events.
ENGAGING STUDENTS IN ANTI BULLYING POLICIES
The school enrichment programming (often referred to as "school assembly programs"), provided by Midwest School Shows are not designed to lecture students about bullying. Instead, they are designed to actively engage students in lessons about respecting yourself, respecting others, and how to identify and deal with bullying problems.
The "Super U! Challenge" is an interactive game show that is designed with challenges similar to the popular TV Show "Minute To Win It" or "Brain Surge" on Nickelodeon. As students are cheering for their classmates and teams, they are learning lessons about "passing on respect", "building trust", and "being the best "U" you can be" by not bullying peers. The finale of the show involves a chance for a student to participate in a challenge with the kid's game show staple –"slime". The slime challenge is build around a message about not making someone do something that they don't want to do, and more importantly, listening to someone when they ask you to stop saying or doing something.
Ventriloquist Vikki Gasko – Green has been engaging students in no-bullying messages since 1994 with her "No Bullies and Friendship Skills Show". During the program, animal characters, such as "Hank The Polar Bear", interact with Vikki and the audience to demonstrate bullying behaviors and illustrate ways students can deal with bullying.
One of the new programs being released this October is, "Bully or No Bully". This program allows students a chance to try out the acting skills as they are invited to act out possible conflict situations and then decide as an audience if the situation would be considered bullying.
REACHING A MILLION STUDENTS
The touring arts presenters from Midwest School Shows have presented approximately 3100 shows in schools from Michigan to Florida. An average of 300 students attends each presentation. Based on those calculations, Midwest School Shows assembly programming manager, Brandy Linn, calculates that they have been able to reach about 930,000 students with their no bullying and respect messages. With their increased programming and additional support to schools, the company's goal is to have reached 1,000,000 students by the end of the current school year.
GETTING PARENTS INVOLVED
Teachers and principals are quick to point out that in order for a school's bullying prevention program to be effective, parents must get involved. Parents need to talk to their kids about bullying, and understand the positive behavior and character choices that are expected of their children at school. Many school districts and "Title I" schools already must meet requirements to encourage "parental involvement" in school curriculum and anti-bullying policies.
Understanding the need to get parents and families involved in school bullying prevention, Midwest School Shows will begin making versions of their in-school bullying presentations available for bookings at PTA family nights and "parental involvement" nights as part of their "A Million Seeds Of Respect" initiative.
"We want to give schools an opportunity to bring parents and students together to be entertained, share some laughs, and leave with some talking points and tools to help encourage bullying and behavior discussions at home", explains Brandy Linn, programming director for Midwest School Shows.
Grants are often available through state agencies and local community group to cover the performance fees to bring a Midwest School Shows program to a school. Midwest School Shows also works with schools to provide discounts and school enrichment program budget assistance when available.
ABOUT MIDWEST SCHOOL SHOWS: Based in Michigan, Midwest School Shows produces educationally enriching performing arts programs that are presented for elementary and middle school audiences. Their programs tour schools in Michigan, Ohio, Illinois, Wisconsin, Indiana, Kentucky and Florida, and are part of the assembly programs recommended by the Michigan Elementary and Middle School Principals Association. Learn more at michiganschoolshows.com or call (586)913-3036.
###