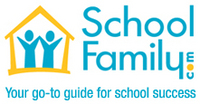 SchoolFamily.com will be the resource real parents can count on all year long for help in navigating these challenging waters.
Wrentham, MA (PRWEB) June 18, 2008
School Family Media, Inc. today announced the launch of SchoolFamily.com , the only website to focus exclusively on school-related issues for parents of Kindergarten – 8th grade students, providing easy-to-access, reliable content on how to help their children (and their families) make the most of the school year. SchoolFamily.com focuses on helping to alleviate much of the stress that parents feel when they want to play a more proactive role in their children's school experience, but are not sure how to find the time or tools to do so – making school success more feasible and fun.
In a day when most school media focuses on the "Helicopter Parents" who are perhaps too involved or on horror stories of parents completely dropping the ball, SchoolFamily.com aims for the all-important middle, helping real parents with practical solutions for getting the balance just right.
The website offers simple, balanced solutions for busy parents and gives them ways to be more involved in their child's school-life that they can adapt to their own school community, personal interests and schedule. Sections such as "Involved Parent" and "Back2School" include motivating first-hand accounts of parents successfully overcoming school-related challenges such as connecting with other parents at school or developing a balanced homework routine. The articles are accompanied by appropriate practical tools and suggestions for overcoming those hurdles.
"For busy parents, helping our kids succeed in school and keeping our families on track at the same time is harder than ever before," said Tim Sullivan, father of 4, President of School Family Media, Inc., and a contributing writer/editor for the site. "SchoolFamily.com will be the resource real parents can count on all year long for help in navigating these challenging waters."
While many publications and websites touch upon how to handle school-related issues, only SchoolFamily.com provides 100% school-related content. The website features expert insight and advice, downloadable tools and even interactive quizzes that parents can use to improve communication with their children, their children's teachers and their schools for a healthy, collaborative school-family relationship that yields benefits both in and out of the classroom.
An interactive 'Parent Q&A' helps parents find positive reinforcement and answers to questions like: "How can I get my child to open up about school?", "How can my kids avoid the Summer brain drain?" and "What does the teacher need to know about my child?"
"School PTO and PTA leaders, who have relied on our tools and resources for almost 10 years, are already aware of our singular, powerful commitment to helping students and families succeed in school," said Mr. Sullivan. "As our resources and connections have broadened, we're thrilled to be able to offer even more tools for parents - like SchoolFamily.com - that they can easily apply to helping their children thrive in school."
Please visit http://www.schoolfamily.com for more information.
ABOUT SCHOOL FAMILY MEDIA, INC.
Since 1999, School Family Media, Inc., through its PTO Today, Inc. property, has been connecting with school parent leaders and school families at every public and private K-8 school nationwide – more than 83,000+ schools - through its array of print, online and event school-family programs. School Family Media is focused exclusively on helping parents and schools help children succeed by promoting and enabling practical and meaningful parent involvement at school. School Family Media's parent-focused, out-of-the-classroom programs, such as School Family Nights, Back2School and now, SchoolFamily.com, offer school families the widest possible range of opportunities and resources for strengthening the connection between the parent, student and school community. Learn more at http://www.schoolfamilymedia.com.
Contact:
Tim Sullivan
Founder & President
School Family Media, Inc.
800-644-3561 x203
tsullivan @ schoolfamilymedia.com
###