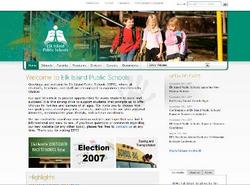 We're all very excited about the launch of our new website
Sherwood Park (PRWEB) September 21, 2007
Box Clever Incorporated and Elk Island Public Schools (EIPS) are pleased to announce the launch of EIPS' new school division website http://www.eips.ca .
EIPS partnered with web developers Box Clever Incorporated to develop a new school website for the start of the 2007-2008 school year. The new website includes a cleaner, more navigable design that represents the exciting and vibrant atmosphere within Elk Island Public Schools. The new website will enhance communication with parents, students, staff and community by providing relevant and up to date information.
EIPS staff responsible for maintaining the website also benefited from the new website. "The new site includes an easy-to-use Content Management System that allows Elk Island School departments to update and maintain their own areas of the school division website quickly and efficiently," says Andrea Martin, EIPS Web Services Coordinator.
The Content Management System (CMS) chosen for the new website is called Web Guide and was custom developed by Box Clever. It's a web-based application that allows EIPS staff to login from any computer and with just a few clicks they can add, edit, or delete text, pages or whole sections from their website. In one short training period staff from all the departments of EIPS were trained on the system and were immediately adding their department's content to the site. "The system has been well received by staff because it is so simple and user-friendly," says
Andrea Martin, EIPS Web Services Coordinator.
"We're all very excited about the launch of our new website," says EIPS Superintendent Egbert Stang. "We are totally committed to applying new technology and to further developing our site to meet the needs of our current and prospective students, parents, staff and community members. We invite everyone to take the time to visit and explore all the information and features our new site has to offer."
The next phase of the project will see EIPS partnering with Box Clever Incorporated to begin revamping and standardizing all school websites within the school division. Work will be done throughout the current school year to train staff and to develop new school websites for all 44 EIPS schools. Schools are expected to have their sites completed and launched by December 2008. Box Clever's Web Guide CMS will also be powering the new school websites.
EIPS is Alberta's fifth largest school system serving approximately 16,200 students in Sherwood Park, the City of Fort Saskatchewan, the Town of Vegreville, the Counties of Strathcona and Lamont, and the western portion of the County of Minburn.
Box Clever Incorporated's focus is on creating school websites that look great and are easy to use. Please visit us online at
http://www.boxclever.ca
###