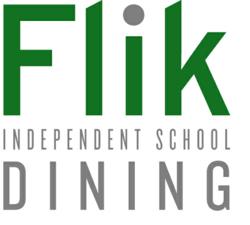 Our philosophy is that good food and good nutrition go hand in hand.
Rye Brook, NY (PRWEB) September 21, 2011
School food service provider Flik Independent School Dining is streamlining its Eat Well program to emphasize greater collaboration between its chefs and dietitians for providing food and nutrition education.
The independent school food service provider has employed a corporate dietitian to develop and implement its education platform since its inception in 2001. Over the past ten years, the company has seen increasing success when its dietitians work hand-in-hand with the on-site school chefs to provide educational opportunities. This observation is what prompted the company to make the dietitian-chef team the hallmark of its Eat Well programming moving forward.
"Our philosophy is that good food and good nutrition go hand in hand," says Susan Cooper, MS, RD, CDN, Nutrition Specialist for Flik Independent School Dining. "With increasing acceptance of chefs as educators and dietitians providing healthful cooking skills, we believe now is the perfect time to emphasize the collaboration between chefs and dietitians in our food education efforts."
Flik Independent School Dining's Eat Well program includes the following initiatives, all of which are developed and implemented collaboratively between Cooper and Corporate Executive Chef, Christian Fischer. Cooper and Fischer then work with on-site school chefs and dietetic interns to customize the program for the school community.

Customized Menu Development –Flik's food philosophy requires the chef of each school to develop a customized menu according to the regional preferences and needs of that community. A dietitian works with the chef to make sure the menu meets the health needs of the community, paying close attention to special dietary needs and food allergies.
Education in the Dining Hall – The following programs teaches age-appropriate food principles and encourages student-specific food and wellness interests. In order to successfully implement these programs and be a resource to students, all chefs must complete a basic nutrition education curriculum and pass a final exam.
o Create Your Plate Healthy (CYPH) is a simple, color-coded guide for lower school students to learn how to select balanced meals based on the principles of the MyPlate icon.
o Balance is a guidance system for middle and upper school students to make more advanced food decisions. Interactive and prominent healthy food messaging and signage help students to identify vegetarian, vegan, local, organic, sustainable and nutrient-dense choices.
o The Performance program helps student athletes gain a competitive edge by providing and identifying food and beverage choices that optimize nutrition and hydration for after-school games and practices. Education components include posters and sports messaging in the dining room as well as training materials for coaches.
o Cooper, her team of dietetic interns and the school chefs work collaboratively to implement healthy food demonstrations to show students that nutrient-dense foods can be delicious.
Education Beyond the Dining Hall – Cooper and dietetic interns are available to implement customized, interactive lessons in the class room, on the field and court, to parents and wellness committees, and for special events such as school health fairs. More and more the school chef is being asked to participate via culinary clubs, cooking classes and demonstrations.
Working with Dietetic Interns – Flik partners with dietetic internship programs accredited by the American Dietetic Association to bring on board graduate-level nutrition students to help meet the demands of schools requesting healthy food education. These interns work collaboratively with Flik's chefs to administer education.
Culinary Education – Culinary clubs and classes for students, parents and faculty have become a popular request in recent years. Flik chefs are encouraged to provide extra-curricular culinary education to the school community. They confer with Flik's dietitians to ensure healthful recipes are demonstrated.
"Serving fresh from scratch meals and providing comprehensive nutrition education has been the foundation of Flik's philosophy long before it was trendy," says Cooper. "It's neat to see our chefs and dietitians working together and learning from one another to provide a holistic approach to food education. More importantly, we are seeing greater success with this model."
About Flik Independent School Dining
Flik Independent School Dining, a division of the Charlotte, NC-based Compass Group, provides school food service for over 130 private schools nationwide. Their team of food and nutrition experts is dedicated entirely to creating fun, healthful and innovative dining solutions for private and independent school communities. Fresh, healthful food preparation utilizing batch cooking techniques and locally and sustainably-sourced ingredients has always been the cornerstone of the company's operating philosophy. For more information, visit http://www.FlikISD.com.
###