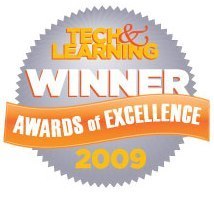 Denver, Colo. (Vocus) October 28, 2009
Tech and Learning announced today that they will award SchoolFusion, an industry leading provider of K-12 website solutions, a 2009 Award of Excellence for their SchoolFusion Classroom product. Tech and Learning's Award of Excellence program recognizes outstanding education technology curriculum products. All entries are carefully screened by the T&L editorial team, and undergo intensive testing by qualified educators in several rounds of judging.
SchoolFusion Classroom is a safe, online community where teachers can create classroom web pages that keep students engaged, learning and collaborating? even after the school bell rings. It is specifically developed for the K-12 education environment, and reinforces in-class lessons in a way that is quick and simple to use. In minutes you can use pre-built features to create educational blogs, classroom photo galleries, use wikis, deliver podcasts/streaming video, and more—all while maintaining CIPA compliant messaging.
Tech & Learning will showcase all winning products in the T&L December Awards Issue as well as feature them online at http://www.techlearning.com.
About SchoolFusion
SchoolFusion is a leading provider of website and communication solutions for K–12 education. Its customized web tools connect teachers, students, and parents by empowering districts to communicate more effectively using customized content management systems, online calendars, easy-to-use classroom websites, Web 2.0 tools and CIPA compliant messaging. SchoolFusion is located in Denver, Colorado and serves over 5,000 schools with over 1 million users in 44 states. Learn more by visiting http://www.schoolfusion.com or call for a demo at 1-800-906-0911.
Press Contact:
Holly Shellner, Marketing Director
SchoolFusion
800.906.0911
###