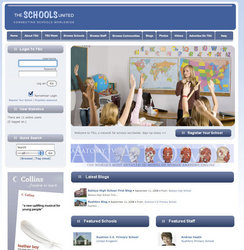 With the launch of The Schools United, anyone in the field of education anywhere in the world, has an established, enthusiastic community of colleagues at their fingertips, ready to share information and resources pertinent to the field of teaching, and support one another in their teaching careers
(PRWEB) September 30, 2008
The Schools United, the first social networking site dedicated to the education community, announces its recent launch. Designed to facilitate school networking on a global level, the site provides educational institutions and their staff members a meeting place for the sharing of materials, experiences and more - for free.
"With the launch of The Schools United, anyone in the field of education anywhere in the world, has an established, enthusiastic community of colleagues at their fingertips, ready to share information and resources pertinent to the field of teaching, and support one another in their teaching careers," says Christopher Jubb, creative director of The Schools United.
All schools in the network feature their own profile page. Among other highlights, the profile displays information such as location, number of students and type (primary, secondary, etc.). Profile pages can also display staff users, latest activities and a mini-blog for posting comments. Recent photos and videos can also be shown. Each profile is accessible by all users of the site, regardless of whether or not profiles are linked to one another. Some profile data, such as e-mail address and telephone numbers, is restricted and can only be accessed by linked users.
Once registered, the account administrator can add teachers and other staff users to the profile, creating a network where every user is instantly linked to others with similar interests, issues or ideas. Each staff user receives personal login details to access the profile. Various communities on the social network allow educators with a common interest, such as geography, music or math, to share their resources, opinions and experiences in the field.
"At The Schools United, teachers and educators have the opportunity to form friendships with others across the globe, enabling all users to enhance their skills as instructors and have a dependable community where likeminded individuals are readily accessible to help one another succeed in their career," Christopher Jubb says.
For more information about The Schools United, the Web's first social networking site for the education community, visit http://www.TheSchoolsUnited.com.
###