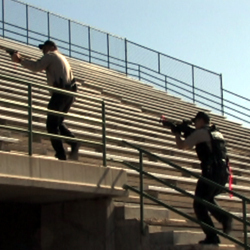 It brings Colorado's vision of statewide interoperable public safety communications all the way into the classroom
Denver, Co (Vocus) January 8, 2009
By following Department of Homeland Security (DHS) guidelines, schools facing a life-threatening emergency can now place a 9-1-1 call to instantly activate a campus-wide radio communications network that links school staff with professional responders arriving on the scene, according to School Safety Partners.
The enabling technology, developed by SchoolSAFE Communications, is changing the way Colorado communities think about 9-1-1 calls and the DHS National Incident Management System (NIMS), which has been adopted by all Colorado schools to protect students and staff.
Schools traditionally respond to crises by calling 9-1-1 and reporting an incident. Then they must wait for responders to arrive and take over the response. Under the new enhanced 9-1-1 system, schools can call 9-1-1, report an incident, and be immediately connected with local responders through the school's two-way radios.
"The system allows the basic radios used by school staff to talk directly with the expensive radios used by law enforcement, firefighters or other professional responders," explains Patrick Hobby, president of SchoolSAFE.
This innovation allows school personnel to fully implement the Incident Command System (ICS) established through NIMS, so that they can work directly with community partners in crisis response procedures such as lockdown, evacuation, reverse evacuation, shelter-in-place, and rescue operations.
The emergency communications system was designed specifically for ease-of-use by schools, and was introduced over the past two years in Colorado through a series of pilot programs. Selected school districts tested the system in full-scale exercises including multi-agency active-shooter exercises.
All participating school districts have elected to permanently install the system. Agreements with their local public safety agencies provide assurance that the system will be used in accordance with NIMS and ICS doctrine. In addition, schools are mandated by new Colorado legislation SB08-181 to test the system at least once every academic term.
It has long been a source of frustration that the two-way radio systems used by the schools for daily operations are not able to communicate with public safety emergency radio systems. The two kinds of systems each operate on very distinct frequencies, and the nature of the radio frequency signals produced during the communications are very different.
Based on these realities, the participating Colorado school districts worked with SchoolSAFE to develop specific requirements for the emergency communications system for schools.
As a result, the system:

facilitates direct communications between emergency responders and affected school personnel during emergency situations;
provides portable radio coverage inside school buildings and a level of audio quality such that speech is easily understood in both directions without repetition;
eliminates the need for emergency responders to install, carry, and operate a second set of radios compatible with the radios used by schools;
allows schools to avoid the expense of purchasing more sophisticated and expensive radio communications systems;
is user-friendly and appropriate for school personnel who have received the minimum required training in NIMS for schools;
facilitates NIMS compliance, regular testing of interoperable communications equipment, partnering with local first responders, conducting exercises jointly with local emergency responders, and completing after-action reports;
allows direct communication with emergency personnel on a selective and controlled basis; and
provides a communications system that can alert a network or group of schools regarding an emergency situation coupled with the ability of a 9-1-1 call center to select which schools within the group can directly communicate with selected emergency response personnel.
"It brings Colorado's vision of statewide interoperable public safety communications all the way into the classroom," notes SchoolSAFE VP Michael Coleman, former president of the state's Consolidated Communications Network of Colorado, and former Douglas County Sheriff Office Chief. Coleman is demonstrating the SchoolSAFE system today to attendees of the County Sheriffs of Colorado Conference in Denver.
###