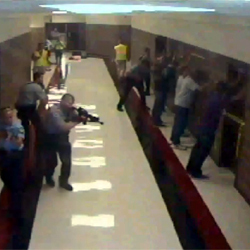 Centennial, CO (PRWEB) October 12, 2010
SchoolSAFE Communications announced today that its founders, Patrick Hobby and David Petty, have been awarded United States Patent No. 7,813,750, which provides the core technology for a new national emergency communications network.
The patent addresses the lack of interoperable communications between professional first responders and those they are trying to rescue. This has been a key issue encountered in the Columbine High School massacre, the World Trade Center attack, the 2008 Mumbai hotel attacks, and countless other deadly incidents around the world.
The patent, issued October 12, 2010, was awarded based on the inventors' low-cost system that allows multi-layered communications in the heat of most emergencies. This communications approach during a crisis enables instant partnering among response agencies, 9-1-1, and citizens trained in the National Incident Management System (NIMS) and the Incident Command System (ICS). The system in effect multiplies the number of people available to handle an incident, and minimize personal injury and property damage.
In Colorado, where SchoolSAFE Communications is based, every school must have staff members trained in NIMS and ICS, and many of the leading school districts have implemented the SchoolSAFE system with their local sheriffs and 9-1-1 authority boards.
Senator Tom Wiens will host a series of conferences to help set up statewide emergency communications networks around the country. The former lawmaker was a principal author of the Colorado Safe School Act. There are currently SchoolSAFE pilot programs in other states including California, Idaho, Utah, Illinois, Alabama, Pennsylvania, Kentucky, and Florida.
Before developing SchoolSAFE, Hobby and Petty had already established themselves in public safety as leading providers of interoperable communications in the region, through their company, QDS Communications. "Schools are still trying to catch up with the communications advances seen in public safety over the last 10 years," said Hobby. "That was a gap we had to bridge because on any given school day about a quarter of the population is in a school building or on a college campus."
"This is why we developed not only the system, but also a way to speed up deployment," added Petty. "We can set up a 60-school network and train a school district in a matter of days." Plans are underway to scale up the SchoolSAFE system to the state and national levels to help coordinate crisis response among multiple jurisdictions for major disasters, and to feed into a nationwide community that can share best practices and lessons learned.
Wiens predicts that SchoolSAFE installations at university hospitals, sports stadiums, concert halls, and dormitories will help introduce the technology to the broader private sector.
About SchoolSAFE Communications
SchoolSAFE Communications is the largest provider of incident command communications for schools. Its patent portfolio provides the core technologies needed to improve coordination among agencies responding to school emergencies. Schools and public safety agencies throughout Colorado rely on SchoolSAFE Communications technology and training for seamless interoperable communications in handling a crisis or managing a special event. In preparation for a national emergency communications network, SchoolSAFE pilot programs have been launched this year in California, Idaho, Utah, Illinois, Alabama, Pennsylvania, Kentucky, and Florida.
###