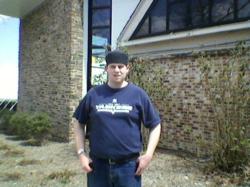 "I am so happy at Bard, and so glad that Renee and everyone at Abilities First gave me the chance to work there. I hope I can work there for many years". - Joseph Staib, age 21, Rhinebeck, New York, on his experience at Abilities First School-to-Work
Poughkeepsie, New York (PRWEB) May 02, 2013
As parent Frank Staib describes, "It is not easy to have a child with special needs. It was very rough, especially in the beginning, as a single parent. Joseph had difficulty in school and would barely speak to anyone."
Frank is dad to 21-year-old Joseph Staib, who credits his experience with Abilities First School-to-Work, based in the mid-Hudson Valley region of New York State, with the self-confidence and communication skills he enjoys today.
Joseph, who had been described as painfully quiet prior to his employment at Bard, said, "I work as a dishwasher at Bard College. I love it there. I make new friends all the time and have a great time working. They gave me a job coach, Renee, who is so nice, and they got me this job at Bard. I would love to work there for many years."
Renee McCormick, of the School-to-Work Program at Abilities First, shared her own take on the program and how it has impacted Joseph. "When I met Joseph in 2012, he was unable to make eye contact and spoke only occasionally. Advocacy is the driving force for us, we work together to ensure that Joseph is advocating for himself and being an active participant in his work plan. After just a few weeks, Joseph was making eye contact and expressing a desire to work in food service. We toured Bard College together, discussed work options at the college, and Bard was willing to provide us with an internship program there for him. They are among many companies and organizations in the Hudson Valley who are opening their doors to kids like Joseph, and are offering us the chance to expand our program in big ways. Joseph continues to build up his confidence level as he feels more competent in his work performance, and he feels like a team player with quality friendships he has made, and Bard gets a terrific employee as a result."
The School-to-Work program at Abilities First provides students with disabilities everything they need to transition from a structured, highly supportive educational environment to the workforce, including job coaching, advising, and job placement. In the spirit of their new CQL Person-Centered Accreditation, Abilities First continues to solidify its commitment to providing individuals with disabilities the platform for success in self-advocacy. For Joseph, this has translated into improved self-esteem. As Frank Staib shared, "Since he has been in the program, he's like a different kid – so much more self-confident and able to communicate with all kinds of people. I am so happy."
Abilities First provides educational, vocational, and residential services to over 1200 individuals with disabilities in the Hudson Valley region of New York State. They have a fifty-plus year history of providing a cohesive culture of warmth, acceptance, and empowerment for individuals with a variety of disabilities, at every age and stage. For more information, visit abilitiesfirstny.org, become a fan at facebook.com/AbilitiesFirstSchool, follow the blog at abilitiesfirstny.wordpress.com, or follow the conversation on twitter at AFSchoolNY. A flash mob will take place on Friday, June 7th at the Poughkeepsie Galleria Mall to launch a LOVE OUR KIDS Campaign, designed by Abilities First to provide a new, digital platform for supporting all families who have special needs children.