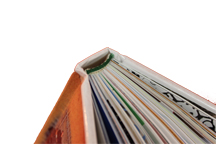 PUR binding is a similar binding method to the traditional perfect bound yearbook, but the adhesive itself is in a totally different league
Princeton, NJ (PRWEB) September 30, 2011
Handing out school yearbooks is an exciting and rewarding experience for anyone who has ever worked on creating the book, as long as everything has gone right. It can also be a trying and even embarrassing experience if there are mistakes in the book, the audience doesn't like the design, or worst of all, if their books themselves aren't staying together. One of the most important things to consider when looking into yearbook companies are their book binding options.
It doesn't matter if the plan is to create a soft cover yearbook or a sewn hard cover book, picking a yearbook company that can offer superior binding quality and techniques is essential to guaranteeing the ultimate success of the yearbook. Senior Yearbook Account Manager, Ellen Sillery, of Entourage Yearbooks explains, "The number one function of a yearbook is to serve as a record of the year and to last a lifetime. Entourage Yearbooks takes this to heart with all of our products and even offers lifetime guarantees on most of our binding methods."
The industry norm in softcover yearbooks has been a standard perfect bound yearbook up until recently. Although this is a very popular binding method, it often doesn't stand up to the years of wear and tear that is expected from a yearbook. New advances in glue binding technology have resulted in stronger binding methods that are more suitable for the lifespan of a yearbook. One of these options is polyurethane reactive or PUR binding, the binding method utilized by Entourage Yearbooks.
"PUR binding is a similar binding method to the traditional perfect bound yearbook, but the adhesive itself is in a totally different league," Says Sillery. "We use PUR binding on all of our soft cover yearbooks, and our non-sewn hard cover books as well so that our customers can feel confident in the Entourage product line."
Benefits of PUR binding include increased flexibility in the binding, more durability through a wider range of storage temperatures, and in the case of hard cover books, a lower cost. "Using PUR binding can be a great way to still create beautiful, durable hard cover yearbook for your school while staying within a strict budget," explains Sillery.
Researching the binding techniques used by a yearbook company is also important when creating a hard cover sewn yearbook. There are many different book sewing techniques available, but the industry standard remains Smythe Sewn binding.
"Smythe Sewn binding is the top choice for archival books as the pages are first sewn together in signatures, then all sewn together into a book block. The strength of this design ensures the lifetime of the book, "says Sillery. "Plus, the books lay flat when open, which is not the case in most other sewn binding methods.
Although there are a lot of yearbook companies out there offering yearbooks at lower and lower prices, doing the research ahead of time will allow for a more informed yearbook decision. Make sure that the company chosen offers the best binding options available. Even if it means paying a little more for a yearbook, in the end it's worth it to have a yearbook that will truly last a lifetime.
To learn more about Entourage Yearbooks and their book binding options visit:
http://www.entourageyearbooks.com
Media contact:
Kelsey Morrissy
Entourage Yearbooks
888-926-6571
Kelsey(at)entourageyearbooks(dot)com
###