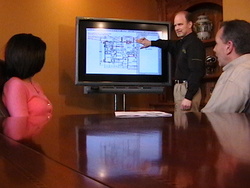 Customers love the ability to see their home design visions come to life on the large screens with Real Time Design -- our professional home designers work with each customer to produce a true custom home building experience
Canton, OH (PRWEB) August 28, 2009
Schumacher Homes, an on-your-lot builder of custom home designs, is proud to announce the launch of its updated Real Time Design® system, where clients can customize their floor plans instantly.
Schumacher's updated Real Time Design system is more interactive, with more options and a quicker response time, allowing clients to work in real time with Schumacher Homes CAD professionals to design and make any number of changes to their floor plans during their visit to any Schumacher Homes' design centers -- at no cost or commitment to buy.
"Customers love the ability to see their home design visions come to life on the large screens with Real Time Design -- our professional home designers work with each customer to produce a true custom home building experience," said Paul Schumacher, owner of Schumacher Homes. "Once complete, the customer receives a copy of their revised floor plans along with a very detailed quote."
"We understand that building a custom home is a big decision. At Schumacher Homes, we encourage our customers to customize each and every detail of their home design to fit their family's tastes and lifestyle. Our update to the Real Time Design system is a natural step forward in our commitment to providing all of the information upfront and making the building process an easy and enjoyable experience."
The Real Time Design service is in use and applies to all of the markets that Schumacher Homes builds in: Arkansas, Georgia, Indiana, Kentucky, Louisiana, Mississippi, North Carolina, Ohio, Pennsylvania, South Carolina, Tennessee, Texas, Virginia and West Virginia.
For more information, visit: http://www.schumacherhomes.com
Contact:
Mary Becker
(330) 478-4500 ext. 309
###