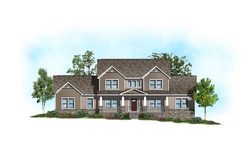 "The customer response to the Great Green Giveaway was huge, and we look forward to helping the Warners enhance the home of their dreams with the winnings from this giveaway," said Paul Schumacher, founder of Schumacher Homes.
Canton, OH (PRWEB) May 25, 2010
Schumacher Homes, a leading on your lot custom home builder, announced that Wray and Sarah Warner of Lincolnton, N.C. won the Great Green Giveaway contest, which ran at all Schumacher Homes locations during the month of April.
The winning building package, valued at up to $30,000, has virtually every product needed to finish the exterior of a home, including energy efficient windows, siding, stone veneer and accessories. The Warner family will be applying this package to the Craftsman style design they worked with Schumacher to develop for their new home.
"The customer response to this contest was huge, and we look forward to helping the Warners enhance the home of their dreams with the winnings from this giveaway," said Paul Schumacher, founder of Schumacher Homes. "Schumacher Homes' is dedicated to working with buyers to design, customize and build a home that suits their needs and style on their own land. This exterior product package allows the Warners to add even more customization to their new, Schumacher home."
The materials in the Great Green Giveaway were supplied by building products manufacturer Ply Gem and are a part of The Designed Exterior by Ply Gem product offering. The windows, siding and stone veneer products included in the package are NAHB (National Association of Home Builders) Research Center Green Approved and are designed to help homeowners reduce energy bills and minimize maintenance.
"At Ply Gem, we strive to help builders like Schumacher Homes and their customers put an unforgettable finish on their exteriors by selecting products from The Designed Exterior by Ply Gem. When choosing from these products, there's no need to sacrifice beauty in the quest to achieve sustainability," said Keith Pigues, senior vice president and chief marketing officer, Ply Gem.
The Warners were one of many entries into the Schumacher Homes Great Green Giveaway, a contest that was open to prospective homebuyers who signed on to build a home within one of Schumacher Homes' 20 locations during the month of April. The winning package will be used to enhance the 2-story, Craftsman style home they are building on 20-acres outside of Charlotte, N.C.
"We spent months looking for a home that was perfect for us and couldn't find anything that fit. That's why we turned to Schumacher Homes to help create our dream, custom home," said Sarah Warner. "We were shocked to learn we had won the Great Green Giveaway and thrilled at the opportunity to add in even more customized materials like shakes; wider, plank siding; and energy efficient windows."
The experienced Schumacher design team worked with the Warners to develop and customize the initial home design. Upon winning the contest, Schumacher and Ply Gem added additional Craftsman-style details with input from BSB Design, an architectural firm that specializes in using low-maintenance materials to achieve historically accurate designs. The resulting plan brings The Designed Exterior to life by combining insulated vinyl siding, aluminum clad wood windows, polymer hand-split shakes and stone veneer in the Craftsman style. Building is scheduled to begin in early summer.
For both Schumacher Homes and Ply Gem, sustainability is a top priority. The exterior products to be used on this home are NAHB Research Center Green Approved. The mark of approval helps homeowners select environmentally beneficial products for their homes. Products included in this prize package are recognized for attributes like energy efficiency, recycled content, reduction of need for on-site paints and stains, and low maintenance throughout their lifecycle.
Schumacher Homes has satisfied more than 6,000 homebuyers in the last 17 years with homes starting in the low $100's to over $750,000, and 1,100 sq. ft. to over 8,000 sq. ft. For more information on the Schumacher Homes, visit http://www.schumacherhomes.com. For more information on The Designed Exterior by Ply Gem, visit http://www.plygem.com.
About Schumacher Homes
Founded in 1992, Schumacher Homes is one of the country's leading on your lot custom home builders and has built more than 6,000 custom homes and energy efficient homes. They have design centers serving Arkansas, Indiana, Kentucky, Louisiana, Pennsylvania, North Carolina, Ohio, South Carolina, Tennessee, Texas, Virginia and West Virginia. Additional information and interactive floor plans can be found at schumacherhomes.com.
About Ply Gem
Ply Gem, headquartered in Cary, N.C., is committed to helping North America's homebuilders, remodelers, architects, distributors, dealers and retailers do more than build homes. Ply Gem wants to help them build their business. The Company offers an unmatched solution to exterior building product needs with a portfolio that includes leading window, door, siding and accessories, stone veneer, fence and rail brands so there is something for every project. Ply Gem siding brands including Mastic Home Exteriors™, Variform®, NAPCO®, Ply Gem® Stone, Kroy®, Cellwood®, Georgia Pacific, DuraBuilt®, Richwood®, Leaf Relief® and Monticello® Columns. Ply Gem Windows manufactures and markets vinyl, vinyl-clad, wood-clad, aluminum-clad, and aluminum window and patio door brands including Ply Gem® Windows, Ply Gem® Canada and Great Lakes® Window. The Company's brands are sold through short-line and two-step distributors, pro dealers, home improvement dealers and big box retailers. Ply Gem employs more than 4,200 people across North America. Visit http://www.plygem.com for more information.
###