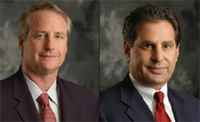 San Diego, CA (PRWEB) December 24, 2009
The Law Firm of Miller & Milove is reminding Schwab Yield Plus Fund Investors that the deadline to opt out or elect to be excluded from the class action which has been certified on behalf of Schwab Yield Plus investors is December 28, 2009. If you fail to take the required steps to opt out of the class action by December 28, 2009 the Court may not permit you to pursue an individual claim and you will be bound by the result of the class action lawsuit (Case number 08-02173).
The Securities Law Firm of Miller & Milove believes that Schwab Yield Plus investors should consider whether pursuit of an individual claim outside of the class action is in the investor's best interests. Historically, investors who pursue individual claims often recover a higher percentage of their losses than as class members. Individual pursuit of claims outside of a class action allows consideration of individual circumstances in a manner which usually does not occur in a class action.
Federal law limits the claims that may be pursued in a class action. In the opinion of Miller & Milove, the strongest claims that can be brought on behalf of most Schwab Yield Plus are authorized by State securities laws which prohibit misrepresentations while selling securities such as the Schwab Yield Plus fund. These are the types of legal claims which are by Federal law prohibited from being brought in a Federal Court class action but which can be brought in a claim on behalf of Yield Plus investors who opt out or elect to exclude themselves from the class action.
Whether any one individual investor is better served by remaining a class member or opting out of the class is dependent upon individual circumstances. Class actions play an important and vital role in the administration of justice in our society, particularly when brought on behalf of investors whose individual losses do not justify a separate legal proceeding. However, if losses do justify a separate legal proceeding, investors are often well advised to pursue individual representation and claims.
Additional information concerning the opt out or election to be excluded procedure and an assessment of whether it is an appropriate legal strategy for individual Yield Plus investors can be obtained from Miller & Milove 619-696-5200.
###