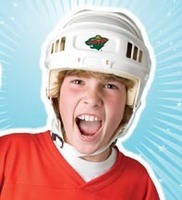 Minnesota-based Schweigert™ meats brand is an official sponsor of the Minnesota Wild.
Saint Paul, MN (PRWEB) October 28, 2010
Parents can score big with family hockey fans thanks to the Schweigert™ Meats Wild Child Sweepstakes. Once entered in the drawing, children have a chance to win four Minnesota Wild game tickets, time on the ice helping the Minnesota Wild ice crew clean the ice during selected TV timeouts and a team practice jersey.
Forty kids will win throughout the regular 2010/2011 season. Names will be drawn at random and winners notified about one week prior to selected Minnesota Wild home games through April 10, 2011. Children must be entered by a parent or legal guardian, be between the ages of 10 and 14 and be registered with a youth hockey team or organization within Minnesota or Wisconsin. For more details and to register, visit: http://www.SchweigertMeats.com.
This is the third year in a row, Minnesota-based Schweigert™ meats brand is an official sponsor of the Minnesota Wild. Fans can find Schweigert™ brand hot dogs, bratwurst, polish sausage, beef kielbasa and Italian sausage offered at all Wild games at the Xcel Energy Center and can enjoy that same authentic "Wild" flavor at home by looking for specially marked packages of Schweigert™ meats at their local grocers.
While online, consumers may want to check out the newly launched website, which focuses on this Minnesota-based brand and its long-term investment in area local communities. The site offers grilling tips, product details and a Community Spotlight profiling volunteers throughout Minnesota and Wisconsin. Additionally, everyone is encouraged to nominate individuals within their own community for upcoming Spotlight features.
About Schweigert™ Meats
Ray Schweigert opened his first retail store in north Minneapolis in the spring of 1937. It was a neighborhood mercantile specializing in fresh and cured meat along with groceries and general merchandise. Schweigert's customers were the local residents of the neighborhood. In those days, the market was no further than a short walk to the corner. Word spread that Schweigert Meat Co. had the best, and soon a home delivery truck was added.
Within three years in the summer of 1940, Schweigert Meat Co. had grown to be the top meat shop in the area and Ray Schweigert moved to a larger plant location at 26th and Emerson in Minneapolis. With this move he added three more delivery trucks that served St. Paul and St. Cloud. It was at this location that Schweigert Meat Co. remained for almost 33 years and grew to include a fleet of more than 30 delivery trucks servicing Minnesota and parts of Iowa, Wisconsin and North Dakota.
In 1983, Schweigert Meats moved to the current location in Albert Lea, Minn., with the brand eventually becoming a member of the Cargill family, where to this day it continues to carry on Ray Schweigert's tradition of making quality meats for local tastes. http://www.schweigertmeats.com.
About Cargill
Cargill is an international producer and marketer of food, agricultural, financial and industrial products and services. Founded in 1865, the privately held company employs 131,000 people in 66 countries. Cargill helps customers succeed through collaboration and innovation, and is committed to applying its global knowledge and experience to help meet economic, environmental and social challenges wherever it does business. For more information, visit http://www.cargill.com.
###