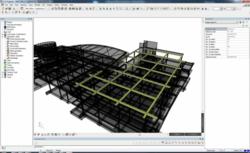 This certification for IFC 2.0 just underlines what strength in depth this market leading software has to offer forward thinking Engineers that are serious about BIM.
Broadstone, Dorset (PRWEB UK) 1 May 2013
Unlocking the potential of BIM in the UK has been driven to the top of the agenda by the Government's commitment to collaborative 3D BIM on its projects by 2016. This requires all project and asset information, documentation and data to be electronic (COBie). COBie (Construction Operations Building Information Exchange) is a data format for the publication of a subset of building model information, focused on the delivery of building information.
BuildingSMART International has recently certified Scia Engineer as the first Structural Building Information Modelling (BIM) software to pass the organization's IFC 2x3 version 2.0 structural model exchange process. Managed by BuildingSMART International, Industry Foundation Classes (IFC) is a registered ISO standard (ISO/PAS 16739). It is developed for the exchange of BIM data. As a neutral exchange format, it is not controlled by any single software vendor, and thus provides a robust way to exchange BIM models between the various Building Information Modelling software programs used in today's design, construction, fabrication and facilities management processes.
The new IFC Certification 2.0 procedure supercedes the old IFC Certification 1.0 procedure that had been used from 2001 to 2010. It requires BIM software vendors to pass a more stringent testing process that is intended to promote consistent and reliable implementation of IFC across the multiple BIM programs that support it.
Software plays a pivotal role in helping civil and structural engineers share BIM data with clients and partners. With this new certification Scia Engineer has gained a unique advantage as the first design software (not just modelling) to go beyond IFC Certification 1.0. This enables CADS' customers to plug into Open BIM workflows today. Now, civil and structural engineers can confidently export their Scia Engineer structural BIM models to others involved in the architecture, engineering and construction disciplines.
Ian Chambers, CADS International Sales and Marketing Director commented, "Scia Engineer already combines powerful modelling, FE analysis, design of multi-material projects, Open BIM and a proven link to Revit. This certification for IFC 2.0 just underlines what strength in depth this market leading software has to offer forward thinking Engineers that are serious about BIM."
Ian went on to say that, "We are so confident about our solutions we have created several Open BIM tutorials. These can be evaluated as part of a Free Trial of our Scia Engineer software. These straightforward exercises are designed to walk prospective adopters of BIM through a small example project to highlight the benefits of structural model based collaboration". For a Free Trial of Scia Engineer or to try the Open BIM exercise contact CADS Sales.
CADS is a major developer of construction industry software and has been in business since 1973. Contractors, engineers, fabricators, detailers and scaffolders use CADS products to make their jobs easier. CADS develops high quality software which is both powerful and flexible. Our software saves time and improves efficiency. Our customers range from sole traders to global corporations. CADS also offers design and detailing services based on its world class software platforms. CADS exclusively develops, markets and supports Scia Engineer in the UK on behalf of Nemetschek Scia. For more information, please visit http://www.sciaengineer.com.