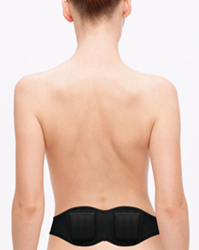 Dr. Allen's therapeutic device provides the first effective natural treatment for lower spine problems and sciatica, and is completely side-effects-free.
London, UK (PRWEB) January 16, 2013
In order to avoid the misery of sciatica/lower back pain, it has to be treated with Dr. Allen's device locally in the first instance rather than have the pain masked with risky injections, Fine Treatment reveals. Moreover, the cost of treatment with back pain injections is so high that its estimate extends to thousands of U.S. dollars, which may cause anxiety and depression by itself.
An effective back pain treatment is becoming a colossal issue as the country moves towards less costly care, "because so many people have it", says physical therapist Esther Smith, as cited in the article on 'Physical therapy is important for neck, back pain relief' by W. Leonard in Desert News, of 12 January 2013.
Sciatica is a highly painful condition, which can follow degenerative disc disease or lumbar spinal stenosis (narrowing of the spinal canal in the lower back) or spondylolisthesis (when a bone in the spine slips out of the proper position onto the bone below it). Conventional treatment options for these conditions begin with over-the-counter anti-inflammatory pills and injections, but they don't always work. A back pain patient Bob Jacobson gave a testimonial to Your News Now in 'Healthy Living: Battling Sciatica', published on 20 November 2012: "I had tried injections in the past, but they were short lived. I got tired of being a pin cushion."
Many people get steroid injections for back pain needlessly, says an article in Harvard Education, dated 18 October 2012; moreover, back pain injections can cost as much as $600 per shot.
As of January 9, 2013, there have been 664 reported cases of infections linked to contaminated steroid injections. At least 40 of these infections have been fatal. While fungal meningitis is receiving the most media attention, spinal and peripheral joint infections near the injection site have also been widely observed, states an article of 13 January 2013 titled 'Tainted Steroid Shots Cause Meningitis, Infection in Minnesota Patients', by GoldenbergLaw, PLLC.
So, it makes no sense to use back pain injections only to find yourself treating other health problems for the rest of your life. The Thermobalancing therapy offers the only gentle, yet effective, way to increase blood circulation around the affected nerves that eases the swelling and ultimately reduces the pain. Here you can watch a video on how easy is to use Dr. Allen's Device at home: http://www.youtube.com/watch?v=jV2my8PWTz0.
"The Thermobalancing therapy relieves pain and treats the lower back area by tackling the underlying cause of pain," says Dr. Simon Allen. "Dr. Allen's therapeutic device provides the first effective natural treatment for lower spine problems and sciatica, and is completely side-effects-free."
For more information please visit the Fine Treatment website:
http://finetreatment.com/lower-back-pain-treatment-lumbago-relief/
About Dr. Simon Allen and Fine Treatment:
Dr. Simon Allen is a highly experienced medical professional. His specialty is in the internal medicine and cardio-vascular field. He has treated a wide range of chronic diseases, including patients after a heart attack, with kidneys problems, including kidney stones disease, prostate and spine conditions, as well as metabolic disorders. Fine Treatment exclusively offers Dr. Allen's devices for BPH treatment and chronic prostatitis, coronary heart disease, dissolving kidney stones, as well as back pain and sciatica relief.