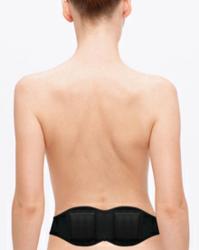 Dr. Allen's therapeutic device is the first effective natural treatment for the lower spine conditions responsible for sciatica.
London, UK (PRWEB) November 24, 2012
In order to avoid the apparent prosperity, sciatica has to be treated with Dr. Allen's device for vertebrae care locally in the first instance rather than mask pain with risky surgeries or long-term oral medicines, highlights Fine Treatment.
Sciatica is a highly painful condition which can follow degenerative disc disease or lumbar spinal stenosis (narrowing of the spinal canal in the lower back) or spondylolisthesis (when a bone in the spine slips out of the proper position onto the bone below it). Conventional treatment options of these conditions begin with over-the-counter anti-inflammatory pills and injections, but it doesn't always work. "I had tried injections in the past, but they were short lived. I got tired of being a pin cushion," says a back pain patient Bob Jacobson in 'Healthy Living: Battling Sciatica', published in Your News Now, 20 November 2012.
In an article titled 'Non-Steroidal Anti-Inflammatory Drugs (NSAIDs) represent a clear and present danger', Dr. J. Mandrola states, "NSAIDs harm three major organ systems: First, NSAIDs disrupt the normal protective processes of the stomach and small intestine. The medical profession has known of this problem for decades, but yet, bleeding from NSAIDs remains a prominent cause of hospital admissions. Second, NSAIDs have major effects on the kidney. Third, study after study has shown that NSAID use, especially over the long-term and in patients with established heart disease, increases the risk of stroke, heart attack and arrhythmia."
Lower back operations are dangerous and ineffective. For instance, "No conclusions can be drawn with regard to the comparative efficacy of open, microscopic, and tubular discectomy surgical techniques to treat sciatica due to a herniated disc -- according to the results of a systematic literature review", published in the November issue of the European Spine Journal, says the article entitled 'Review compares surgeries for sciatica due to herniated disc', of 10 November 2012, in Surgery.
So, it makes no sense to choose risky conventional treatment options and then to treat the resultant health problems for the rest of your life.
The Thermobalancing therapy is the only way to support blood circulation in the affected area at the capillary level reducing swelling and pain. This therapy truly powerful and has absolutely no side effects. Please watch ta short video on how easy it is to use Dr. Allen's Device enabling this therapy at home: http://www.youtube.com/watch?v=O_li665LBNE.
"The Thermobalancing therapy relieves sciatica and treats the lower back area by tackling its fundamental cause," says Dr. Simon Allen. "Dr. Allen's therapeutic device is the first effective natural treatment for the lower spine conditions responsible for sciatica."
For more information, please visit the Fine Treatment website: http://finetreatment.com/sciatica-treatment-sciatica-pain-relief/
About Dr. Simon Allen and Fine Treatment:
Dr. Simon Allen is a highly experienced medical professional. His specialty is in the internal medicine and cardio-vascular field. He has treated a wide range of chronic diseases, including patients after a heart attack, with kidneys problems, including kidney stones disease, prostate and spine conditions. Fine Treatment exclusively offers Dr Allen's devices for http prostate treatment: chronic prostatitis and BPH, coronary heart disease, dissolving kidney stones, as well as for back pain and sciatica relief.