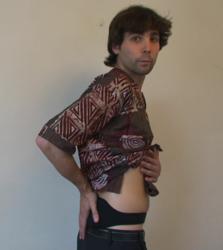 Dr. Allen's unique natural treatment helps to relieve sciatica without drugs by treating the Sciatic nerve locally.
London, UK (PRWEB) January 13, 2012
Fine Treatment recommends the Thermobalancing Therapy as a natural effective treatment for Sciatica. Whether it is a result of cold, pelvic imbalance, herniated or degenerative disk, the therapy dramatically reduces the inflammation of the Sciatic nerve, relieving pain within hours or days. However, the complete healing of the Sciatic nerve takes quite a while. A promising new treatment for Sciatica is helping many patients to avoid painkillers which may harm their general health.
According to the Bureau of Labor Statistics, in 2006 back pain was responsible for 62% of cases of people missing work due to pain involving the upper body. The most commonly prescribed medications for the treatment of back pain and sciatica are painkillers such as nonsteroidal anti-inflammatory drugs (NSAIDs). These drugs have a range of side effects. This was the reason, which in 2005 led the Food and Drug Administration (FDA) to ask drug manufacturers of prescription NSAIDs to include with their products the same warning label used for the COX-2 inhibitor celecoxib (Celebrex). This "black box" warning, the FDA's strongest, emphasizes the increased risks for cardiovascular events (heart-related problems) and gastrointestinal (digestive tract) bleeding associated with the use of these drugs.
Contrary to the regular approaches, Fine Treatment offers natural and effective Dr. Allen's Device for Lower Back Pain Care, which treats the sciatica cause taking away the inflammation around the Sciatic nerve. The patients who have tried the back pain treatment by Dr. Allen are highly satisfied. For instance, Trisha D., 50 years, from Westerham, Kent, UK says, "After being in pain for many years, I am a happy woman again. Dr. Allen's Device for lower back pain care has made my life pain free. It is absolutely amazing!" Further details can be found at http://www.finetreatment.co.uk/natural-alternative/lower-back-treatment.html.
"Specially designed, the natural device for the treatment of sciatica is comfortable to wear and will not affect your day-to-day activities", explains Dr. Allen. "This unique natural treatment helps to relieve sciatica without drugs by treating the Sciatic nerve locally."
The following video http://www.youtube.com/watch?v=O_li665LBNE shows how easy it is to use the natural device for lower back pain, and sciatica relief and treatment.
About Dr. Allen and Fine Treatment:
Dr. Simon Allen qualified as a medical doctor 40 years ago. Fine Treatment offers devices for prostate treatment, including the treatment of BPH and chronic prostatitis, coronary heart disease and for recovery after a heart attack, for kidney care dissolving kidney stones and for back pain relief in the lower and upper spine areas.
# # #