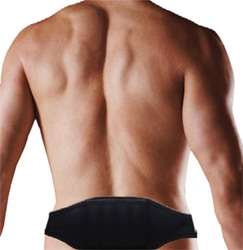 Dr. Allen's therapeutic devices treat sciatica, lower back pain and prostate enlargement without side effects.
London, UK (PRWEB) July 13, 2012
The Thermobalancing therapy enabled by Dr Allen's devices reduces pain in lower back and improves the condition of enlarged prostate according to new patient reports, Fine Treatment reveals. Patients' cases make an important contribution to a wider use of Dr. Allen's therapeutic devices. You can watch a short testimonial about the benefits of Dr Allen's devices: http://www.youtube.com/watch?v=V5xidswhxJM.
Dr. Ralph Saint-Phard, MD, Lincoln Medical and Mental Health Center, USA has reviewed a new Fine Treatment's patient case, saying: "Her doctors couldn't offer much relief, and recommended her to exercise and practice yoga. None of these methods worked, and as a secretary who has to sit for long hours, the pain was unbearable for Leela; and then she heard about a new device and she decided to give it a try. At first, she wore it constantly, even in bed and noticed some relief after two weeks."
Fine Treatment is pleased to be frequently receiving feedback from satisfied customers. "I purchased one of the lower back treatment devices 2 months ago and found that it gave relief to my lower back discomfort," says Mr. Cheeseng Lean from Malaysia. "Seems to be going fine," says Mr Shirley, 62, from Canada after 6 months of wearing Dr. Allen's device for prostate enlargement treatment.
On the other hand, BPH medications have seen rising concerns over their side effects. Many case studies conducted at the Harvard Medical School confirm complications arising from two BPH drugs: tamsulosin (Flomax) which may suddenly make men become lightheaded, and terazosin (Hytrin) which can be responsible for the acute urinary retention.
According to The New York Times of 4/25/2011, Sciatica, "The most commonly prescribed medications for the treatment of back pain are nonsteroidal anti-inflammatory drugs (NSAIDs). Evidence suggests that short-term use of NSAIDs brings effective relief in patients with acute back pain. The benefits of NSAIDs for chronic back pain are less certain." Furhermore, "Long-term, regular use of NSAIDs can increase the risk for heart attack, and is also the second most common cause of ulcers and gastrointestinal bleeding."
"The Thermobalancing Therapy is an effective and harmless way of treating chronic internal disorders, which is highly important," says Dr. Simon Allen. "Dr. Allen's therapeutic devices treat sciatica, lower back pain and prostate enlargement without side effects."
Read more at http://www.finetreatment.co.uk/sciaticatreatment/lowerbackpaintreatment.html
About Dr. Simon Allen and Fine Treatment:
Dr. Simon Allen is a highly experienced medical professional. His specialty is in the internal medicine and cardio-vascular field. He has treated a wide range of chronic diseases, including patients after a heart attack, with kidneys problems, including kidney stones disease, prostate and spine conditions, as well as metabolic disorders. Fine Treatment exclusively offers Dr. Allen's devices for the treatment of chronic prostatitis and BPH, coronary heart disease and to dissolve kidney stones, as well as relieves back pain and sciatica.