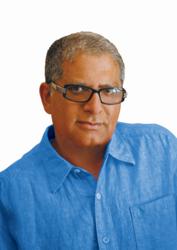 Los Angeles, CA (PRWEB) February 23, 2012
The Chopra Foundation is pleased to announce the speakers and topics planned for the afternoon and evening of the second day of the three-day Sages and Scientists Symposium in Carlsbad, California. The March 3–5, 2012 event in Carlsbad, California will feature such well-known speakers as retired General Wesley Clark and former President of Mexico Vicente Fox, who will address some of the greatest questions facing mankind today.
A condensed bio of each speaker is provided after the following list of speakers and topics.
LEADERSHIP

General Wesley Clark – The New Leadership
President Vicente Fox – Discovering and Exercising Your Leadership
Laura Liswood – The Loudest Duck: Moving Beyond Diversity
Jeremy Moon – Rapid Prototyping as a Pathway to Intuition
J. Ivy – Explanation To Self: Transformation
TECHNOLOGY

Kamran Elahian – God 2.0
Erin Mote, Ph.D. – The Transformative Currency of Technology and Innovation
Carlos Dominguez – New World, New Rules
PEACE, JUSTICE, AND SUSTAINABILITY

Satish Kumar – Soil, Soul and Society
Vandana Shiva, Ph.D. – Making Peace with the Earth
CONDENSED BIOGRAPHIES
General Wesley Clark retired a four-star general after 38 years in the United States Army. A hero in every sense of the word, in his last assignment as Supreme Allied Commander Europe he led NATO forces to victory in Operation Allied Force, saving 1.5 million Albanians from ethnic cleansing.
His awards include the Presidential Medal of Freedom, Defense Distinguished Service Medal (five awards), silver star, bronze star, purple heart, honorary knighthoods from the British and Dutch governments, and numerous other awards from other governments, including Commander of the Legion of Honor (France).
President Vicente Fox served as President of Mexico from 2000 to 2006. The first candidate from an opposition party to be elected president since 1920, he garnered 42% of the vote, marking the first time that the then-dominant Institutional Revolutionary Party had lost a presidential election. Under his leadership, the country experienced a stretch of fundamental economic strength and stability.
Since leaving office, President Fox has been involved in public speaking and in the development of Centro Fox, a center for the advancement and study of democracy that encourages a sense of commitment and solidarity among the Mexican population for the underprivileged and for those who have not enjoyed the benefits of development.
Laura Liswood is the co-founded the Council of Women World Leaders with President Vigdís Finnbogadóttir of Iceland. She currently serves as Secretary General of the Council. She holds an MBA from Harvard Business School and a BA from California State University, San Diego. She also holds a J.D. degree from the University of California, Davis, School of Law, and is admitted to practice law in California and Massachusetts.
Liswood's book and video documentary Women World Leaders is a chronicle of her interviews with 15 current and former women presidents and prime ministers. Her latest book, The Loudest Duck, is a business guide that uses parables and anecdotes to examine the challenges to traditional workplace diversity efforts and provides innovative strategies to create truly effective workplaces for all.
Jeremy Moon is an entrepreneur who, at the age of 24, serendipitously discovered a merino grower who had developed a unique fabric made of 100% merino wool. Jeremy immediately saw the potential of a natural, lightweight, itch-free, biodegradable fabric that combined the benefits of wool and synthetics. Within a decade, his brand Icebreaker had grown to become New Zealand's leading outdoor clothing producer and exporter.
Moon attends the invitation-only TED (Technology, Entertainment and Design) conferences. He is a leading speaker on sustainable business practices and on the role of design and innovation in business. He holds a bachelor's degree in commerce and a master's degree in commerce in marketing from Otago University.
J. Ivy is a poet, author, live and voiceover actor, model, photographer, and song writer. He is the first of his kind when it comes to the art of hip-hop poetry and has taken the art of poetry directly to today's mainstream music and television arenas.
His motivational motto, "Dreams Don't Come True, They Are True," has guided him from his native home Chicago to becoming a Grammy-Award-winning artist. At his breathtaking performances for people of all ages and his appearances on countless television networks, J. Ivy's passionate delivery always leaves spectators transfixed in a state of inspiration, and because of that he is recognized all over the planet.
Kamran Elahian is an entrepreneur who co-founded ten companies, of which three failed, six produced a total market cap of over $8B, and one is slated for IPO next year. As a VC, he co-founded Global Catalyst Partners with investments in the U.S., Japan, China, India and Israel.
Kamran's global vision is based upon his conviction that modern IT can be instrumental in dissolving barriers between nations. This vision is reflected in Schools-Online, a nonprofit he founded in 1996 to connect the world one school at a time (6,400 schools in 36 countries); Global Catalyst Foundation, co-founded in 2000 to improve lives through the effective application of IT; and UN-GAID, a United Nations global forum that promotes ICT in developing countries.
Erin Mote, Ph.D. has, for over a decade, forged alliances with private corporations, including work with Diageo, Chevron and Wal-Mart, NGOs and governments to drive the development of corporate strategies that promote a double bottom line of profit and social good. In her current capacity as Chief of Party for the USAID Global Broadband and Innovations (GBI) Alliance, she is charged with driving connectivity, mobile solutions and innovation throughout USAID's global development portfolio.
Dr. Mote holds a Ph.D. in international relations from Johns Hopkins SAIS and two master's degrees, one in Russian and Eastern European studies, and the other in public administration from University of Michigan, where she graduated Phi Beta Kappa. She serves in a leadership capacity for several civic organizations including the Junior League of Washington, the Alumni Association of the University of Michigan, and NetImpact. She is also a gubernatorial appointee on the Arizona Mexico Commission.
Carlos Dominguez is a Senior Vice President at Cisco and a technology evangelist, who motivates worldwide audiences as he speaks about how technology is changing how people communicate, collaborate and work.
Dominguez is a member of the CDC Foundation, which connects the Centers for Disease Control and Prevention (CDC) to innovative ideas and expertise from outside partners. He is also a board member at the Institute of Large Scale Innovation (ILSI), a group of international leaders who use innovation to help solve complex global challenges.
Satish Kumar is a former monk and long-term peace and environmental activist who has quietly set the global agenda for change for over 50 years. He was just nine when he left his family home to join the wandering Jains, and 18 when he decided he could achieve more back in the world, campaigning for land reform in India and working to turn Gandhi's vision of a renewed India and a peaceful world into reality.
Satish settled in the United Kingdom in 1973, taking up the post of editor of Resurgence magazine, a position he still holds. His autobiography, No Destination, first published by Green Books in 1978, has sold over 50,000 copies. He is also the author of You Are, Therefore I Am: A Declaration of Dependence, The Buddha and the Terrorist, and Earth Pilgrim.
Vandana Shiva, Ph.D. is trained as a Physicist and did her Ph.D. on the subject "Hidden Variables and Non-locality in Quantum Theory" at the University of Western Ontario in Canada. She later shifted to inter-disciplinary research in science, technology and environmental policy, which she carried out at the Indian Institute of Science and the Indian Institute of Management in Bangalore.
Dr. Shiva's books include Soil not Oil, Earth Democracy, Water Wars, Patents Myth and Reality, Tomorrow's Biodiversity, Stolen Harvest, Biopiracy, Monocultures of the Mind, Ecofeminism, The Violence of the Green Revolution, and Staying Alive.
The public and press are invited to come together for all three days and join in the conversation on science and consciousness. Sages and Scientists will explore responsible leadership, environmental sustainability, peace and justice, world transformation, and social and economic challenges, and will end with a summarization and creative solutions.
The Chopra Foundation is requesting a donation of $1,995—$1,000 of which is tax deductible—for general participation, after which registration will be complimentary. Contributions to the Symposium will be used to support collaborative research on the realization of consciousness, carry on the Foundation's other charitable work, and pay expenses for the program.
Accommodations are available at The La Costa Resort and Spa. Please register online at http://www.choprafoundation.org and use the promo code #54E883 or call (800) 854-5000.
When making a reservation, please mention "The Chopra Foundation Sages and Scientists Symposium" to receive the special discounted rate: $169.00 per night. This rate excludes resort fees and taxes, and is based on availability.
In addition to the specified room rates, there will be an Automatic Daily Resort charge of $10, plus California Tourism Assessment Fee (which is currently 0.13% per room, per night), plus applicable taxes (which are currently 10%).
To obtain more information about The Chopra Foundation, please visit the Foundation's website: http://www.choprafoundation.org.
About the Chopra Foundation
The Chopra Foundation is a 501 (c) (3) organization dedicated to improving health and well-being, cultivating spiritual knowledge, expanding consciousness, and promoting world peace to all members of the human family.
The organization's mission is to participate with individuals and organizations in creating a critical mass for a peaceful, just, sustainable, and healthy world through scientifically and experientially exploring non-dual consciousness as the ground of existence and applying this understanding in the enhancement of health, business, leadership and conflict resolution.
To learn more about The Chopra Foundation, please visit the Foundation's website: choprafoundation.org.
###