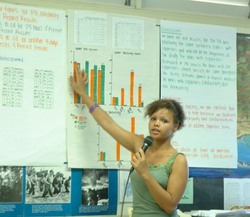 traditionally difficult to reach population.
Honolulu, HI (PRWEB) April 22, 2009
An evaluation of the second year of the Research Investigation Process (RIP ®), a research-based science education program for kindergarten through high school, distributed and supported by ANOVA Science Education Corporation (ANOVA Science; http://www.ScientificInquiry.com ; http://www.anovascience.com ) supports and validates the findings of benchmark improvements in standards-based student critical thinking and learning year over year.
The evaluator for this federally-funded math-science partnership project, Dr. Bob Pergolizzi, pointed out the uniformly positive impact of the RIP program on critical thinking and data analysis skills in this "traditionally difficult to reach population." He noted gains from start of year to end of year, and in participating classes over non-participating classes.
In addition to assessments administered throughout the school year, non-RIP control groups were available for the first time this year. A direct assessment of the program's success found impressive gains in teachers and students at all levels and in all skills. The results were the same whether the RIP was applied to learning science or any other subject. "The Year 2 data analysis supports Year 1 analysis for all measured benchmarks, and more and better Year 2 data support Year 1 tentative conclusions," stated Dr. Pergolizzi.
This statistically significant display of benchmark improvements is particularly impressive in a population that contains a high number of ELL and academically-challenged students. Special Education students also gained in their knowledge and skill in scientific inquiry. According to Dr. Landsman, President of ANOVA Science and developer of the RIP, "What is especially exciting about the second year results is that again the value of this program stands firm for not just the gifted and talented and general education student, but also for the struggling learner."
Ruth Silberstein, Principal of Palolo Elementary School, commented, "Palolo Elementary School's teachers and students who have been exposed to the RIP teaching and learning process are demonstrating improved critical thinking skills and increased motivation. Moreover, student test scores increased over those with non-exposure to the RIP process…Both teachers and students manifest more critical and analytical thought processes."
In his second year evaluation report, Dr. Pergolizzi stated that analyses of both objective and subjective data validate "additional gains in knowledge, understanding and skills, and maintenance of, or further gains in, already high levels of confidence exhibited by teachers" in their second year in the program. These improvements "clearly support the argument that they benefited from their continued participation in the RIP~ing @ Science in Kaimuki Complex program. The RIP clearly increases the academic achievement of students in mathematics and science by enhancing the content knowledge and teaching skills of classroom teachers."
In commenting on the program, teachers pointed to a more meaningful and robust teaching and learning experience. Grant Coordinator and Resource Teacher Pam Kohara echoed the uniformly positive teacher feedback: "The synergy offered through the RIP~ing @ Science in Kaimuki Complex project has been priceless. The impact of the first two years laid the foundation for schools to understand and appreciate the extent of student growth in thinking and learning, in many cases across all content areas, resulting from the RIP scientific inquiry program."
Palolo teacher Joyce Luka added, "The RIP has made a tremendous impact on both my students and me. It has introduced the value of critical thinking into my classroom of students who come from some of the most challenged demographics in Hawaii. This thinking has literally 'woken up' even my most difficult-to-reach students and transformed them into excited, highly motivated learners."
"Students enjoy learning about science and other content areas by designing and conducting their own research investigations aligned with state standards more than they do by learning through more traditional methods," stated Dr. Landsman.
And Dr. Pergolizzi agrees, "One of the most striking findings, although subjective, were the words of young participants (especially K through 3) that they 'like learning science this way' instead of from 'boring' books. At first I was taken aback by this concept, until I realized the potential cost savings this could imply if implemented on a grand scale!" (See a video about third graders reflecting on their use of the RIP to learn science and other content at: http://video.yahoo.com/watch/4906778/13070805 )
Dr. Pergolizzi summarized his report with strong support for the RIP program. "There is clear evidence that the program makes it possible for students at all levels, even difficult-to-reach student populations, to not only learn science but to enjoy learning it and to look forward to learning more about science. This is a point that cannot be emphasized strongly enough…As an individual with concerns about the future of science education in America and around the world, I would like to see this program broadly implemented elsewhere without delay."
RIP is a trademark or registered trademark and service mark or registered service mark, of ANOVA Science Education Corporation, ANOVA Science Publishing, and Dr. Robert Landsman in the U.S. and/or other countries. ANOVA Science Education Corporation assists schools in implementing scientific research-based science education programs, providing students with critical thinking and decision-making tools for life-long learning skills that support economic growth and the maintenance of security in the USA. As sole distributor of products and services associated with the Research Investigation Process (RIP ®) inquiry-based science education program for K-12 schools, the contribution of ANOVA Science's vision toward the nation's movement for science education reform has been recognized and is well received by national and state education organizations. ANOVA Science's activities and services include professional development workshops, seminars and projects; teacher coaching and mentoring; curriculum development addressing state and national standards; and publishing education materials available online at http://www.anovascience.com or http://www.ScientificInquiry.com .
For more information about the RIP or to speak with Dr. Landsman directly, please call 808-741-8512.
# # #