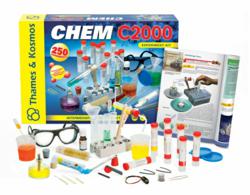 We want Discover This to be synonymous with chemistry sets
Lake Forest, IL (PRWEB) January 26, 2012
With the support of a recently redeveloped website and growing customer base, Discover This was able to put forth strong sales figures with their selection of chemistry sets, microscopes, and other educational science toys. Discover This primarily attributes the success to parents seeking more value for their money; chemistry sets and microscopes are educational and give children a wider range of opportunities to explore and discover. Discover This cites the redeveloped website and revamped chemistry sets from industry leader Thames & Kosmos as other contributing factors.
As a preferred partner of Thames & Kosmos, Discover This receives a first look at their new arrivals and carries its full line of products in stock and ready to ship. Even during the busy seasons, Discover This is able to replenish their stock faster than larger corporate competitors. Since Discover This was the first to hear about the new chemistry sets, the company was prepared to list and ship them as soon as Thames & Kosmos released them.
Discover This was also recently redesigned to be more user-friendly, which has shown an increase in confidence from new and returning customers. This led to a sharp increase in traffic to the site's chemistry set pages. "We're thrilled with the success of our core science products. We want Discover This to be synonymous with chemistry sets, and our fourth quarter certainly reflects that we are moving in the right direction," remarked Jeffery James, General Manager of the toy division of Renaissance Retail, Discover This' parent company.
Discover This is the leading source for educational science kits and science toys. As a family owned and run business, they sell the same products that they give their own children. All of their products are fun and non-violent, while they also keep children mentally active by engaging them in learning about the many exciting branches of science. Headquartered in Lake Forest, Illinois, Discover This is a division of Renaissance Retail, the Internet's leading source for specialty consumer products.
Contact:
Timothy Benson
Renaissance Retail
847-932-4720 ext. 2704
Email: tim(at)discoverthis(dot)com
###