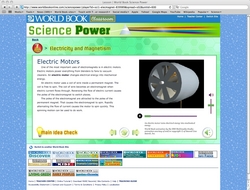 Learning about science needs to be a priority early on, and it has to be continuously reinforced in a variety of ways to establish literacy.
Chicago (Vocus) November 12, 2010
World Book, Inc. today announced several additions to Science Power, its science website designed to meet the needs of students of varying learning aptitudes. Science Power, first introduced this summer, is a core component of the World Book Classroom collection of content-rich, interactive digital supplemental learning resources.
"As part of the Science, Technology, Engineering, and Math (STEM) initiative, improving students' science capabilities is a national priority," said Paul Kobasa, World Book Vice President and Editor-in-Chief. "However, educators are challenged with the reality that in every group of students there is a wide range of learning aptitudes that must be accommodated. Science Power combines World Book's expertise in differentiated learning and in-depth sciences subject knowledge in an integrated learning environment that delivers innovative digital supplemental science material to help elementary students across a wide range of developmental levels improve their science literacy."
In September, the President's Council of Advisors on Science and Technology (PCAST) submitted a report to President Obama on K-12 STEM education. Spurred by the ongoing findings that American students lag peers in other countries in science, PCAST's recommended strategies include preparing students for a strong foundation in STEM subjects and inspiring students so that they are motivated to study STEM subjects and pursue careers in STEM fields.
"Learning about science needs to be a priority early on, and it has to be continuously reinforced in a variety of ways to establish literacy," said Kobasa. "Students need access to learning resources not only in the classroom, but in their school libraries, their public libraries, and at home."
Teachers and school librarians can apply Science Power to whole-class, small-group, and individual activities as well as to differentiated instruction or intervention use. Public librarians can include Science Power in their children's programming and homework-support services. Science Power also is fully remotely accessible (via subscribing school and library websites).
New Lessons Expand Learning
Designed for students in the upper elementary grades, Science Power lessons cover all science curriculum topics, with highlighted vocabulary, rich multimedia, custom-made animations, and review questions. New comprehensive lesson packages now available in Science Power include:

Matter, covering such areas as matter basics, acids and bases, changes, properties and states of matter, mixtures and solutions, and elements; and
Forces & Energy, covering such areas as electricity and magnetism, energy and work, heat, light, motion, simple machines, and sound.
These join lesson packages on Living Things, Ecosystems, Earth, and Weather & Space, which were introduced with the site in August.
Key features across Science Power include:
Differentiated versions of the lessons written at a lower level for struggling readers and extension activities for advanced students;
Text read aloud by a professional voice actor;
Main idea checks on every page for quick comprehension reinforcement;
Downloadable MP3 podcasts of the lesson content (ideal for both student and teacher quick review);
Interactive quizzes to review the lesson content and vocabulary as well as tests that check student comprehension, with tracked results for the teacher;
Teachers' guides and student study guides for every lesson as well as critical thinking questions that prompt students to apply what they've learned; and
Resources to help expand student learning including science experiments that can be completed at home or at school, with videos demonstrating their concepts, as well as links to related content on the World Book Web and in editor-selected external websites.
Additionally, Science Power is ready to use immediately and correlated to main science textbooks and state/provincial standards as well as to Lexile Framework® for Reading measurements.
Ordering Science Power
Science Power is available on a subscription basis from World Book's school and library sales force at 800-975-3250 (U.S.) or 800-837-5365 (Canada) and from the school and library ordering site (http://www.worldbookonline.com/sales ).
About World Book Classroom
World Book Classroom provides content-rich, interactive digital supplemental material that meets each student where, when, and how she or he wants to learn. Designed to meet the needs of students of varying learning aptitudes, World Book Classroom includes Science Power, a supplemental science website for the upper elementary grades, and two digital supplemental learning resources for improving literacy -- Dramatic Learning and Early World of Learning.
About World Book
World Book, Inc. sets the standard in publishing accurate, current, and reliable reference and learning materials for children and adults. Based in Chicago, World Book is committed to creating educational products that meet the highest standards of editorial excellence in print and digital forms. This commitment has resulted in a wide range of products including the quintessential The World Book Encyclopedia; the World Book Web, a comprehensive and authoritative online solution meeting the diverse information needs of students, educators, public library patrons, and families; and World Book Classroom, innovative and effective teaching resources to improve learning in libraries, classrooms, and at home. World Book, Inc. (http://www.worldbook.com ) is an affiliated company of the Scott Fetzer company, a subsidiary of Berkshire Hathaway, Inc.
EDITORS NOTE: Members of the media interested in reviewing Science Power should contact Mary Jung at 773-429-0940.
Contact:
Mary Jung, 773-429-0940
Jennifer Parello, 312-819-6558
###