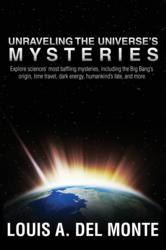 The ever growing number of science mystery followers are seeking answers, not just a rehashing of current scientific dogma…My intent in Unraveling The Universe's Mysteries is to give them answers in an easy to understand fresh perspective…
Minneapolis, MN (PRWEB) January 31, 2013
Louis A. Del Monte, Physicist, CEO and Author of Unraveling the Universe's Mysteries (published just four months ago), is gaining formidable media attention and a wide audience for his new theories.
In his book, Del Monte explores science's most baffling mysteries and provides new theories to address some of them, including the Big Bang's origin, the relationship between existence and energy, the nature of dark energy and dark matter, and even the nature of the universe itself. Until now, there have been scant scientific theories to address them and gain any popular media traction.
Similar to Einstein's initial publication of his theory of special relativity, Del Monte's theories often challenge traditional scientific thinking. However, again similar to Einstein, while imaginative, Del Monte's theories square well with empirical observations and experimental data.
"The ever growing number of science mystery followers are seeking answers, not just a rehashing of current scientific dogma," said Louis Del Monte. "My intent in Unraveling the Universe's Mysteries is to give them answers in an easy to understand fresh perspective. I believe this is what scientific and nonscientific audiences want."
With over 89 million Google search returns (search performed January 27, 2013) for the simple keyword phrase "universe's mysteries," three of the ten returns on the first page list Louis Del Monte and Unraveling the Universe's Mysteries. The image results also feature the book cover. Yahoo search provides similar results.
Social media is also featuring Del Monte. For example, YouTube, the world's largest video-sharing website, list Del Monte's videos on the first page of results for keyword phrases like "universe's mysteries," and "big bang science theory," among many others. Del Monte's YouTube Channel, Del Monte On Science, established a little over three months ago has over 10,000 video views. Del Monte's Facebook page, published in late October 2012, has over 1800 likes. Del Monte's Twitter followers have grown to over 1500, since his first tweet on October 29, 2012.
Del Monte's book, Unraveling the Universe's Mysteries, is available in soft cover or e-book format on Amazon.com and BN.com (Barnes & Noble). Rating on both Amazon and Barnes & Noble average 5 stars. Goodreads.com has also highly rated it 4.5 stars.
Louis A. Del Monte is an author, physicist and the Chief Executive Officer of Del Monte & Associates, Inc. For over thirty years, he was a leader in the development of microelectronics for IBM and Honeywell before forming a high-tech e-marketing agency and authoring Unraveling the Universe's Mysteries. He has a B.S. degree in Physics and Chemistry and an M.S. degree in Physics, published numerous technical papers, and developed several patents fundamental to the fabrication of integrated circuits. Del Monte is the recipient of the H.W. Sweat Award for scientific/engineering achievement and the Lund Award for human resource management excellence.
Visit Louis Del Monte's Science Questions & Answers blog for contact information, interviews and speaking engagements. You can also view Louis Del Monte's profile on LinkedIn.