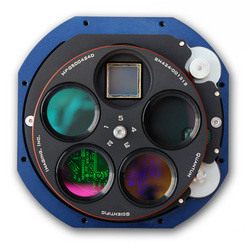 The wide field of view, wide dynamic range, linear response to light and exceptionally low noise contribute to make the QSI 540 and 540c extremely well suited to a broad range of demanding astronomical, scientific, medical and industrial imaging applications
Dana Point, CA (PRWEB) July 9, 2008
Quantum Scientific Imaging, Inc. today announced the addition of the QSI 540 and single-shot color QSI 540c to the highly regarded QSI 500 Series family of cooled 16-bit scientific CCD cameras. The QSI 540 employs the 4.2 megapixel Kodak KAI-04022 interline transfer sensor with microlens technology.
A total of five configurations of the monochrome QSI 540 and color 540c are available. The slim body QSI 540i and 540ci utilize the electronic shutter built into the KAI-04022 image sensor to control exposures. The electronic shutter offers very precise exposure times from 100µs up to 240 minutes. The 540si and 540csi incorporate the optional internal mechanical shutter to simplify the creation of calibration frames. The 540wsi adds an internal 5-position color filter wheel designed to hold standard 1 ¼" filters.
The large 21.4mm diagonal sensor in the QSI 540 has 2048 x 2048 7.4µ pixels with built-in anti-blooming protection. "The wide field of view, wide dynamic range, linear response to light and exceptionally low noise contribute to make the QSI 540 and 540c extremely well suited to a broad range of demanding astronomical, scientific, medical and industrial imaging applications," says Kevin Nelson, Vice President of Sales and Marketing. More details are available here:

QSI 500 Series Scientific Cooled CCD Cameras
Like all models in the QSI 500 Series, the QSI 540 and 540c are supported by industry standard image acquisition software, including MaxIm DL, CCDSoft, AstroArt and Nebulosity. Development tools are available for creating custom Windows or Linux imaging applications. The QSI camera control Windows API is an automation component that communicates with the camera device driver and exports a COM automation interface. The QSI COM automation interface allows custom camera control applications to be developed for use with National Instruments™ LabVIEW, MathWorks™ MATLAB® and any other Windows® application that can act as an ActiveX automation controller.
The QSI 500 Series is a reasonably priced family of cooled CCD cameras offering cooling up to 45°C, extremely wide dynamic range, excellent linearity and exceptionally low noise. The superb imaging performance of 500 Series cameras is wrapped in an attractive and compact design with outstanding power efficiency. The 500 Series features a broad range of Kodak full-frame and interline transfer CCDs from 0.4 megapixels up to 4.2mp. A variety of options and accessories are available making the 500 Series ideal for low light applications in astronomy, life sciences, industrial and scientific imaging.
See additional information about the QSI 500 Series Cooled CCD Cameras
Pricing and Availability
The QSI 540 and 540c are available immediately starting at the introductory price of $3,995. Retail prices for other models in the QSI 500 Series cameras begin as low as $2,295. OEM and custom configurations are available.
About QSI
Quantum Scientific Imaging designs and manufactures scientific grade, thermo-electrically cooled CCD cameras designed for applications that require superior image performance such as astronomical, medical, scientific and industrial imaging. QSI's compact, power efficient cameras deliver superior imaging performance with extremely wide dynamic range, excellent linearity and exceptionally low noise.
Press Photos
High-resolution images of the QSI 540 and 500 Series family suitable for publication can be found here: http://www.qsimaging.com/500photos-hires.html
###