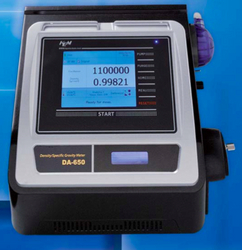 "We are excited to offer this new revolutionary development in density meter technology to our customers. These KEM instruments are built on almost 50 years of experience working with density meters and other physical properties testing equipment.
Fairfax, VA (PRWEB) March 4, 2010
The new DA600 series density instrument is designed to be maintenance-free, provide easier operation and better reliability.
Operators will see improvements in several areas including:

Repeatability -- it's better. Run more tests and maintain accuracy throughout.
Accuracy (4.0 place, 4.5 place, 5.0 place). The DA600 series come in three models to meet your desired accuracy requirements. The DA-640 Density Meter(4.0 place), DA-645 Density Meter (4.5 place), DA-650 Density Meter (5.0 place)
User-friendly. Built with the user in mind. TFT color touch-panel, easy check cell window for samples, one-point calibration, calibrate with water and air, convenient pre-programmed methods, equipped with USB & Lan ports and flash memory data transfer capability to a PC.
Quicker measurements (in some cases almost half the time). High-speed measurements can be accomplished by extrapolating the endpoint earlier.
Small sample size is O.K. Some samples are expensive or messy. A minimum of 1mL of sample is enough to run a test.
Viscosity Correction for high-viscosity samples. Viscosity can be a problem but with the automatic viscosity correction there is less work required by the operator.
Comes with density standard liquids. No need to look for density standards. The only company in the world to provide both density meters and density standards from the same source.
Configurable. No need to purchase more than you need. The Density meters come as stand-alone instruments or can be combined with the separate auto cleaning and sampling unit (DCU-551N) or Multiple sample changer unit (CHD-502N).
Scientific*gear specializes in Karl Fisher, Titration, Density, and Surface Analysis instruments. This full range of titration, moisture, Density and surface analysis testing equipment provides operators with a selection of choices for conducting quality control and production testing. For more information about Scientific*gear or the new density testing equipment product line, please visit http://www.scientificgear.com.
###