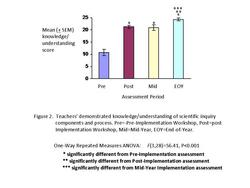 The RIP program resulted in a phenomenal paradigm shift away from traditional instructional methods and more student centered learning that is rich with deep critical thinking applications.
Pompton Plains, NJ (PRWEB) November 18, 2010
Over the last 3 years, ANOVA Science Education Corporation (ANOVA Science; http://www.scientificInquiry.com ) has focused attention on implementing the Research Investigation Process (RIP ®) critical thinking model into school districts in Hawaii and New Mexico where cultural and/or language diversity present challenges in student academic performance. Already a research based program, the RIP has generated more current data demonstrating once again its effectiveness in schools servicing especially academically challenged student populations. The RIP as a critical thinking model addresses and builds students' skills beyond the traditional focus on content—essential skills so lacking in the 21st Century learner.
Impact data from implementation of the RIP in New Mexico and Hawaii elementary, middle, and high schools are showing dramatic effects of ANOVA Science's RIP professional development program on the confidence and instructional ability of teachers. This result is then translated to gains in student thinking ability and learning of science and non-science content.
ANOVA Science recently received the independent evaluator's report summarizing the findings for the 3-year RIP~ing @ Science in Kaimuki Complex project supported by a federal math-science grant. Based on annual evaluation reports from two separate independent evaluators, the RIP has produced measureable systemic change in how teachers teach and students learn at the 10 elementary and secondary schools in this complex. The report states, "The RIP program resulted in a phenomenal paradigm shift away from traditional instructional methods and more student centered learning that is rich with deep critical thinking applications. It is evident that the participating teachers in Kaimuki Complex are willing and ready to provide more rigorous and meaningful instructions to help their students become critical thinkers and self-motivated explorers."
There was striking consistency across the three years' reports from both independent evaluator companies. All emphasized the rigor of the RIP critical thinking model and learning process and its ability to lead to curriculum that is relevant to the students' and teachers' lives. "While students find the RIP makes them think much more than does learning class content through books, lectures, and multimedia, they also claim to like science and enjoy learning it through the RIP," explains ANOVA Science's President, Dr. Robert Landsman.
According to the third-year culminating evaluation report, "After RIP training, all of the Kaimuki Complex participating teachers provided opportunities for their students to engage in deep critical thinking from 'a moderate' to 'a very large extent' compared to only half 'a moderate extent' prior to the training. Kindergarten through high school teachers doubled the amount of their total instructional time spent teaching critical thinking skills which more than doubled to 63%. The teaching of standards-based science content more than doubled to 40%." And the impact of the RIP on student performance extended to state testing. According to Dr. Landsman, principals from two of the Kaimuki Complex schools informed ANOVA Science of positive RIP impact on state scores, with students of RIP-trained teachers outperforming those of non-RIP-trained teachers.
The RIP evaluation reports included student comments. One of the most striking findings were the words of young participants (especially grades K through 3) that they "like learning science this way" instead of from "boring" books. The evaluator stated, "At first I was taken aback by this concept, until I realized the potential cost savings this could imply if implemented on a grand scale!"
At Kula Kaiapuni 'o Anuenue, a Hawaiian immersion school, students and teachers are successfully incorporating the RIP process through their curriculum to teach science and other content via this scientific inquiry-based critical thinking model. When asked how teacher Lanakila Makua was applying the RIP in the classroom, he stated, "We used Hawaiian culture to teach science and math concepts by doing a Research Investigation Process (RIP) on imu rocks (rocks used in an underground oven used by our people). The students learned about mass, volume, and density, as well as how to make an imu. The RIP also kept the students actively engaged, as they were interested in seeing the outcome of this RIP. They wanted to know if the hypothesis that they constructed was right. So, in all, the RIP worked well for teaching standards-based science and mathematics concepts by doing a scientific investigation that focused on a traditional Hawaiian practice."
Students in Teacher Kehau Camara's classes used the RIP scientific inquiry model to learn more about culture. "Our students in the 5th and 6th grades used the RIP process to investigate our traditional Hawaiian creation chant to see if our kupuna (elders) gave similar names to various living organisms (plants, animals, coral, ...) because of similarities in their habitat, physical and/or behavioral characteristics."
Kula Kaiapuni 'o Anuenue Curriculum Coordinator Leilani Kamalani stated: "It is wonderful to see the transformation that has taken place over the past year as we have implemented the RIP program. Our teachers are energized and our students are excited about doing the RIP. We are raising expectations for the teaching and learning of critical thinking skills through scientific inquiry."
Just as culturally- and language diverse, New Mexico's Central Consolidated School District (CCSD) teachers and students are also benefitting from the application of RIP critical thinking in the classroom. Assessment results also show that while the cognitive demand is higher, these students enjoy learning science more through the RIP model than from previous methods of instruction. According to Navajo Reservation Nizhoni Elementary School teacher Jennifer Evans, "RIP provides a common language, process, and thinking tool for my third grade students so that they are able to apply data to make evidenced-based arguments as they learn science through the RIP."
Evaluator Dr. Robert Pergolizzi, a scientist and science educator, summed up his report stating "There is clear evidence that the RIP program makes it possible for students at all levels, even difficult-to-reach student populations, to not only learn science but to enjoy learning it, and to look forward to leaning more about science. This is a point that cannot be emphasized strongly enough. As an individual with concerns about the future of science education in America and around the world, I would like to see this program broadly implemented elsewhere without delay."
RIP and RIP~ing Across the Miles are trademarks and service marks, and RIP is the registered trademark and registered service mark, of ANOVA Science Education Corporation, ANOVA Science Publishing, and Dr. Robert Landsman in the U.S. and/or other countries. ANOVA Science Education Corporation assists schools in implementing scientific research-based science education programs, providing students with critical thinking and decision-making tools for life-long learning skills that support economic growth and global competitiveness through high-quality, continuous, and data-driven teacher support in schools and classrooms throughout the USA. As sole distributor of products and services associated with the Research Investigation Process (RIP ®) inquiry-based science education program for K-12 schools, the contribution of ANOVA Science's vision toward the nation's movement for science education reform has been recognized and is well received by national and state education organizations. ANOVA Science's activities and services include professional development workshops, seminars and projects; teacher coaching and mentoring; curriculum development addressing state and national standards; and publishing education materials available online at http://www.anovascience.com.
# # #