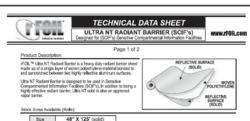 (PRWEB) November 29, 2012
Insulation Stop supplies rFoil™ SCIF approved radiant barriers. SCIF or Sensitive Compartmented Information Facilities are buildings or structures where classified information is handled and processed. In the construction process, specific materials and building techniques are used to ensure this classified data remains classified. Radiant barriers are used to shield certain frequencies and are incorporated into the wall design.
"We are excited to offer the new information page to our customer base", stated Nick Semon, owner of Insulation Stop. "Many companies offer their standard radiant barrier product as a SCIF approved product but they have not been tested. On the page, consumers can find the entire 161 page specification for SCIF construction as well as detail sheets for individual wall assemblies. The spec calls for the rFoil™ radiant barrier and that's the product we offer. Also included on the page is the rFoil™ product literature, technical sheet, as well as installation sheet. All the information anyone needs is right here conveniently located on one page."
"It is always exciting to roll out new information for our customers. There is some misconception in our industry as to which products actually meet and pass the specification. By pulling all the information together and offering it in one place where consumers can download and share it shows we want our customers to be assured they are purchasing the correct product. We put the specification out there for everyone to review. Of course, there is also information to purchase our rFoil™ SCIF approved radiant barrier there as well."
Insulation Stop's SCIF product ships within 2 business days, to anywhere in the country and the price is always protected with the Insulation Stop price guarantee available for all orders.
For more information on radiant barrier and reflective foil insulation, please visit InsulationStop.com.
Nick Semon is co-owner of Insulation Stop. They offer individual and bulk orders of U.S. made radiant barrier and reflective bubble foil insulation products for commercial and residential use. The company is committed to offering extensive knowledge on the use and application of its reflective insulation products.