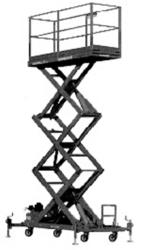 It is Always Fun to Introduce a New Product!
Orlando, FL (PRWEB) June 16, 2013
Scissor Lifts are extremely popular at A Plus Warehouse and always have been. With so many options at such an inexpensive price who wouldn't want one from A Plus Warehouse. The company happily introduces a new scissor lift to the scissor lift family. This new scissor lift is the personnel Scissor Lift.
With so many nice features, it's no wonder A Plus Warehouse is so pleased to add the personnel Scissor Lift to the collection. The Personnel Scissor Lift at A Plus Warehouse has a 3 foot by 8 foot platform. This is very beneficial for high access. It also had a 1000 pound capacity so a several people can be working at the same time or even two extremely heavy people. The Personnel Scissor also rolls manually on 8 inch caster. As a side not for potential customers A Plus Warehouse sells casters. Some other basic information about the Personnel Scissor Lift is the basic dimensions are 9 feet by 4 feet. Also, units with working height of 19 feets and less do not require outrigger. Personnel Scissor Lifts higher than 19 feet do include this feature. If a customer talks with a sales employee some customization to an application is also available.
The platform is also safe. Safety always comes first. The A Plus Warehouse Personnel Scissor Lift exceeds ANSI safety standard. The platform has a totally enclosed platform with 42 inch rails and toe boards. Emergency stops are also included on the base and platform for safety purposes. The Personnel Scissor lift also uses 120 AC power to raise and lower, but it also does have thermal protection for safety. Also, a standard unit may not be used for energized bare wire work or inclined surfaces due to safety concerns. The company would like to remind customers; however, even though the Personnel Scissor Lift is safe, not using it for its proper use is very dangerous. This is after all not a toy; it is a big piece of machinery and should be treated that way.
The A Plus Warehouse family hopes that this article gives customers a brief overview on one of the companies newer product. Ed Stairman president of A Plus Warehouse says "We love our new products.. it is always fun to introduce a new product!" Buy personnel Scissor Lift from A Plus Warehouse today it will defiantly be worth the time and money. It is a great product.
A Plus Warehouse is the operator of http://www.apluswhs.com and distributes materials handling and storage equipment nationwide and throughout Canada. The sales staff at A Plus Warehouse is available at 800-209-8798. A Plus Warehouse has been in constant operation since 1996.