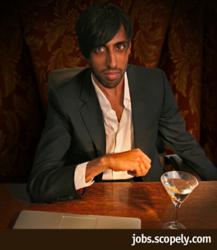 We don't always hire developers, but when we do, we hire the Most Interesting Engineers in the World.
Los Angeles, CA (PRWEB) July 19, 2011
Google AdSense co-creator Eytan Elbaz, together with Walter Driver and Ankur Bulsara, have secured an angel round of funding from a group of all-star investors for their stealth startup, Scopely. The funds will be used for product development and expanding the engineering team.
Investors in the round include Lerer Ventures, Terry Semel's Windsor Media, Howard Lindzon, David Cohen, David Tisch, Greycroft Partners, Gil Elbaz, and Evan Rifkin.
To fill the job pipeline, Scopely has launched a clever recruiting campaign for the "Most Interesting Engineers in the World." Playing on other prominent advertising campaigns, it poses statements like, "Web technologies have meetups to discuss him," referring to Scopely CTO Ankur Bulsura, and offers outlandish referral incentives like $11,000 wrapped in bacon and an oil painting of yourself "because Picasso needs a REAL model."
The Scopely team currently includes 12 senior engineers and product managers from companies including Playdom, MindJolt, Warner Brothers, and Saatchi and Saatchi. The startup is on the lookout for front end developers, user experience (UX) designers, software infrastructure engineers and mobile developers.
According to Eytan Elbaz, Scopely will disrupt a segment of the social web that is "ripe for innovation." Elbaz co-founded Applied Semantics, which sold to Google for $100 million in 2003 and became Google AdSense. He remained at Google as Head of Domain Channel until 2007.
To show off talents with Javascript, UX design, mobile technologies, LAMP stacks, RDBMS, Redis, caching, RESTful APIs, Objective C, Node.js and more, visit jobs.scopely.com
###