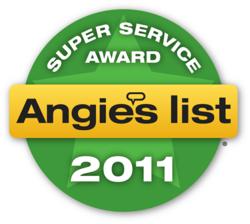 We treat every customer like our best and most loyal customer, and they notice the difference.
Las Vegas, NV (PRWEB) May 08, 2012
Bulwark Exterminating has been awarded the 2011 Angie's List Super Service Award in Las Vegas for the fourth consecutive year for the branch's exceptional service and customer service rating.
Angie's List, the pay-for consumer review website, awards its annual Super Service Award to approximately five percent of its listed businesses. Business operators are rated each year on aspects such as customer reviews, maintaining a limited number of reports and abiding by operational guides.
"It's a real testament to the hard work and dedication of each of our technicians," said Branch Manager Wayne Bryant. "We treat every customer like our best and most loyal customer, and they notice the difference."
Bulwark's Las Vegas exterminator branch has won the prestigious award since 2008. Since then the branch has seen consistent growth from year to year not just in customer base, but employed technicians and office staff. The Las Vegas valley also presents unique pest problems which are not easily eliminated.
"Scorpions in Las Vegas are the hardest household pest to eliminate," said Bryant. "It's quite satisfying to be recognized for our ability to successfully treat the homes of our customers, knowing they have some one of the most challenging pest problems."
Bulwark Exterminating has been the center of attention in recent online marketing events for their insights on turning satisfied customers into online reviewers. Back in February of this year at the Search Marketing Expo in California, Thomas Ballantyne of Bulwark Exterminating spoke on the correlation between online reviews, customer satisfaction, customer retention, and customer referrals. "The type of behavior that is required to earn an online review is the same behavior that improves customer satisfaction which improves referrals. Our Las Vegas branch scored high in all of these areas. Wayne Bryant is a fantastic leader and motivator."
Bulwark Exterminating LLC is based in Mesa, AZ and is an industry leader in providing high quality pest control service. Bulwark is fully operational in seven states, including the eleven U.S. cities of Charlotte, Raleigh, Austin, Houston, San Antonio, Atlanta, Tulsa, Mesa, Phoenix, St. George, and Las Vegas. While Bulwark provides pest management for common insects such as ants, roaches, crickets and spiders, the company's differentiating specialty is scorpion control. To do this, Bulwark uses the finest and most effective products in the world to solve common pest problems. Bulwark is privately and family owned, has approximately 250 employees and services over 50,000 customers nationwide, providing pest control in North Carolina, Georgia, Texas, Oklahoma, Arizona, Utah, and Nevada. Local offices in Las Vegas are located at: 3932 Octagon Road, North Las Vegas, NV 89030; 2129 Industrial Rd #203, Las Vegas, Nevada, 89102; and 2707 East Craig Road, North Las Vegas, NV 89030. For more information, visit http://www.BulwarkPestControl.com.