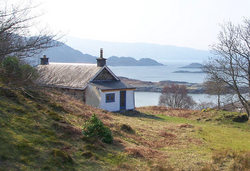 South Shore Cottage has indescribably lovely views of the islands lying to the west and offers its guests one of the most remote locales on Eilean Shona
Eilean Shona, Scotland (PRWEB) March 1, 2008
Visitors now have an additional choice when visiting Scotland's small isle of Eilean Shona: the newly renovated South Shore Cottage. South Shore Cottage is one of six quaint vacation rentals available on the beautiful island of Eilean Shona, located off the country's west coast. Reservations are now being accepted by Ecosse Unique at http://www.uniquescotland.com/shona.
"South Shore Cottage has indescribably lovely views of the islands lying to the west and offers its guests one of the most remote locales on Eilean Shona," says Mark Breed of Ecosse Unique. "The island and South Shore Cottage are surely first and foremost a place to forget the cares of everyday, give credit cards a holiday and relax."
Recent renovations at South Shore Cottage include a cozy sitting room with wood burning stove, a newly fitted kitchen, a double bedroom for two and a spacious bathroom. Visitors to South Shore Cottage should not expect to find Wi-Fi and the typical electronic comforts of their homes -- the cottage has no electricity and is designed to invoke a sense of times past, before the hectic days of cell phones and alarm clocks. With no electricity, all cooking is done by gas and all lighting provided by gas lamps. Heating and hot water are run from the stove. The vacation rental's water is from a private spring and bottled water is provided for drinking. Pets under strict control are welcome at the cottage.
In addition to being the most remote cottage on the island, South Shore Cottage is close to Eilean Shona's only silver sand beach at Shoe Bay which, remote as it is, is likely to be completely deserted. Since Eilean Shona has no roads, visitors to the island must leave their vehicles in a safe parking area on the mainland near the imposing ruin of Castle Tioram and travel by a private motor launch across Loch Moidart to the island's South Shore. If visitors forget the teabags, the launch travels to the mainland on most days. South Shore Cottage's private moorage gives its guests the opportunity to bring their own private boat, which can be used to explore the surrounding seashores and travel to the mainland at their convenience.
The privately owned Eilean Shona Island is two miles long by 1.5 miles wide and is completely unspoiled, with no cars or bikes. At more than 300 acres, it is a natural haven for wildlife, plants and many rare trees brought from distant parts of the world some 100 years ago. While exploring the island, visitors can stroll past lovely lochans and through woodlands and private bays, where all that will disturb them are the shoreline birds and the odd visiting seal.
The South Shore Cottage and many more unique and unusual vacation rentals are available through Ecosse Unique. For more information, call +44-1835-822277 or visit http://www.uniquescotland.com/shona.
# # #