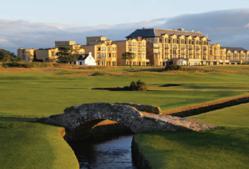 Graeme Gilbertson, Director of GVUK said "We have had an excellent association with the Old Course Hotel over the years and together we have formed a formidable partnership which ensures our clients receive only the best in quality and service."
St Andrews, Scotland (PRWEB) September 20, 2012
Golf Vacations UK will shortly be applying for their Trade Times at St Andrews Old Course for the 2013 season. Applications will be made for tee times on the Old Course for each month from April through October. Golf Packages, which include the St Andrews area are always enhanced by the inclusion of The Old Course within the itineraries.
The St Andrews Links Trust, which govern and run the seven St Andrews courses, including the Old Course, opened their application process to the public for times on the Old Course on the first Wednesday in September. Several thousand applications from all over the world were received on the first morning. Trade times, which are not available for allocation to the public, are then allocated to specific Tour Operators such as Golf Vacations UK.
The company will continue its close affiliation with the St Andrews Old Course Hotel, which overlooks the famous 17th Road Hole of the Old Course. The hotel is recognised as one of the leading golf resorts in the world. Graeme Gilbertson, Director of the company said "We have had an excellent association with the Old Course Hotel over the years and together we have formed a formidable partnership which ensures our clients receive only the best in quality and service."
The company are encouraging clients who wish to play the Old Course in 2013, to make their enquiries soon, as tee times are likely to be in great demand. Golfers wishing to obtain a guaranteed tee time on the Old Course must stay in St Andrews for a minimum number of nights. Details of St Andrews accommodation and golf packages are available from Golf Vacations UK.
The company are also continuing their association with South-West Ireland Golf, a company which represents the interest of many of the classic courses of the South-West. Golf Vacations UK are delighted with their 13-year relationship with South-West Ireland Golf who assist with their clients during their Ireland Golf Vacation.
Eddie Gilbertson, Director at Golf Vacations UK said "Our offices are based in the Scotland / England borders and because we send many groups to Ireland, both the south and North, we decided that we needed someone on the ground within Ireland as contact for our clients. SWING is the perfect partner. They are not Tour Operators as such, but do represent many of the golf courses within their area. We are delighted to continue our relationship with them."
Golf Vacations UK are Golf Tour Operators based in the Scottish / English borders, and have been arranging golfing packages for clients in Scotland, Ireland, England and Wales for around 13 years. The company provide full land packages for International golfers to include prime guaranteed tee times at all major championship venues including the Old Course St Andrews. The company is run by father and son team, Eddie and Graeme Gilbertson, who pride themselves in offering a bespoke and personal service to their clients.
The company also has preferred tour operator status at some of the most exclusive hotels within the UK and Ireland. Anyone wishing to enquire further regarding their golf packages or any of the articles mentioned in this release, should contact Eddie or Graeme on 888 209 4094 or +44 1228 598089 or visit the web site at Golf Vacations UK