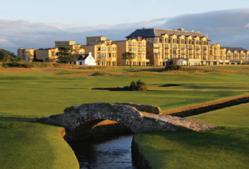 Carlisle, Cumbria, UK (PRWEB) May 15, 2012
Golf Vacations UK are now in their 12th year of arranging golf packages and Golf Vacations to Scotland Ireland England and Wales. The company are now recognised as one of the leading incoming golf tour operators for the UK & Ireland with the capability of sourcing tee times at the major championship venues including St Andrews Old Course.
The company have now arranged golf packages to Scotland and Ireland for over Three thousand golfers with the major part of their business being repeat clients and referrals.
Graeme Gilbertson, Director, said "We are very proud to have so many clients that have repeatedly used our services over the years and that have also referred other golfers to us"
The company are also members of SIGTOA – the Scottish incoming Golf Tour Operators Association and do still have availability for times at the Old Course St Andrews during the season.
Two of the leading hotels in Scotland attach preferred Tour Operator status to Golf Vacations UK. The Old Course Hotel in St Andrews work with the company providing top class accommodations, which compliment the guaranteed tee times provided by the company at St Andrews Old Course, a relationship which has worked well over the last few years.
Culloden House has recently been voted by Conde Nasté Traveller readers as the number one hotel in Europe. Stephen Davies, General Manager of the hotel said, "As the number 1 hotel in Europe Culloden House rely on having perfect partners, for the last 12 years Culloden House have been delighted to have Golf Vacations UK as our preferred golfing partner. In Golf Vacations UK we have found a partner whose attention to detail is unrivalled in providing the best guest experience"
The Turnberry Trophy, which is arranged by the Turnberry Hotel in Ayrshire, was held on the 8th May with over 100 players attending the event as guests of the hotel, which is one of the top golfing resorts in Scotland with the Open Championship course Turnberry Ailsa on site together with the sister course Turnberry Kintyre, which is a final Open Championship qualifying venue.
Eddie Gilbertson and Phil Hartley, from Golf Vacations UK were guests of Turnberry and competed in the event as representatives of the company.
The day at Turnberry was a resounding success, with Colin Montgomerie, multi-time European Order of Merit winner playing golf with the attendees, running a clinic for some European Media and Operators, and attending a dinner and question and answer session at the hotel.
The tournament was blessed with excellent weather and the golf course was in outstanding condition. There is no better place to play golf and enjoy wonderfull views of the Ailsa Craig and Irish sea over to the Island of Arran.
The fact that Turnberry are providing this opportunity to stay and play at this wonderful venue is greatly appreciated by the tour operators and media involved and Colin Montgomerie is an excellent ambassador for their product.