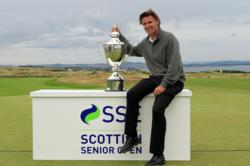 Jack Nicklaus said 'When I was asked to do the course more than 20 years ago, in those days it was a pretty challenging golf course. With the equipment and the golf ball and everything going so much further it needed alterations.'
St Andrews, Scotland (PRWEB) August 22, 2012
On Sunday, Anders Forsbrand scored a first for his country in the SSE Scottish Senior Open at Fairmont St Andrews. Forsbrand, who is 51, won the tournament by one shot from Philip Golding, playing over the Torrance Course, becoming the first Swede to capture a title on the European Senior Tour.
Forsbrand, together with other Swedish players such as Per-Ulrik Johansson, Mats Lanner and Jesper Parnevik, were extremely successful on the European Tour during the 80's and 90's. Forsbrand became the first player from his country to compete in all four major championships in one season, netting six wins and a high of fourth on the order of merit at the end of the 1992 campaign.
Portmarnock Golf Club, County Dublin, Ireland will host the 29th staging of the biennial St Andrews Trophy Match for men and the 45th annual Jacques Leglise Trophy Match for boys on August 31 and September 1. GB & Ireland players chosen include the Amateur Champion and the Boys Amateur Champion. Portmarnock Golf Club has hosted the St Andrews Trophy Match on one previous occasion in 1968 when GB&I triumphed, 20 -10.
The St Andrews and Jacques Leglise trophy matches offer spectators a rare opportunity to see some of the world's best amateur golfers, men and boys, in morning foursome and afternoon singles matches over two days of competition. Former GB & I representatives in this competition include current World No 1, Rory McIlroy, Padraig Harrington, Luke Donald, Lee Westwood and Tom Lewis. While the Continent of Europe has counted Ryder Cup Captain, Jose Maria Olazabal, Sergio Garcia, Martin Kaymer and Edoardo and Francesco Molinari among its ranks.
Gleneagles Hotel has recently been honoured by a visit from the great Jack Nicklaus to view changes that have been made to the recently re-opened PGA Centenary Course, which is the venue for the 2014 Ryder Cup. Nicklaus originally designed the course and it has undergone extensive modifications as a result of consultations with his design team.
Jack Nicklaus said 'When I was asked to do the course more than 20 years ago, in those days it was a pretty challenging golf course. With the equipment and the golf ball and everything going so much further it needed alterations.'
Gleneagles Managing Director Patrick Elsmie said: 'It's terrific to hear Jack's positive comments on the course, which have been echoed by those guests and members who have had the opportunity to play it since the reopening.' In the run-up to the Ryder Cup in 2014, it is expected that thousands of golfers will take up the chance to play the final tournament course before it sees the golfing greats of the US and Europe engage in battle for the Ryder Cup
Golf Vacations UK are Golf Tour Operators, based in the Scottish / English borders that arrange golfing packages for clients in Scotland, Ireland, England and Wales. They provide full land packages for International golfers to include prime guaranteed tee times at all major championship venues including the Old Course St Andrews. Anyone wishing to enquire further their golf packages or any of the articles mentioned in this release, should contact Eddie or Graeme on 888 209 4094 or +44 1228 598089 or visit the web site at http://www.golfvacationsuk.com