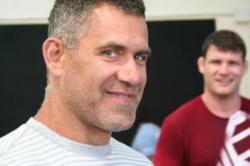 It's very unusual to be a part of such a diverse, specialized, and dedicated team in this field.
Irvine, California (PRWEB) August 08, 2012
An ex-pro in the Canadian Football League, Prohaska has dedicated his career to helping large groups of young athletes become better through proper strength training and mentoring. He's also improved and in some cases, lengthened, the careers of professional athletes in as far-ranging sports as mixed martial arts to the NBA, and athletes such as Kaylin Richardson, a two-time Olympic Alpine skier. Other notable athletes include Reed Johnson, Center Fielder, Chicago Cubs; Rob Blake, Los Angeles Kings; Dwayne Roloson, Tampa Bay Lightning; Michael Bisping, UFC; Matt Barnes, Los Angeles Lakers; and James Patrick, a 19-year N.H.L. veteran, helping him extend his career and perform better after a serious neck injury.
Speaking so softly one needs to lean in the listen to Prohaska as he describes his most memorable achievement while coaching athletes: "taking over the strength, conditioning and performance program for a small, all-boys school in Southern California, we turned the football organization around and managed to play undefeated in all three years I was there, won two C.I.F. titles, and a coveted California State Championship. That year we were ranked number five in the country. Seeing those players transform to champions, dedicated to one another, even carrying the proper food around in coolers wherever they went, truly made me proud."
"I'm excited about my new role at Stark. It's very unusual to be a part of such a diverse, specialized, and dedicated team in this field. At Stark, I get to really focus on my strengths—connecting the training to the sport, and making sure the athletes believe in themselves and achieve more than they think is possible—rather than attempting to do the entire job of writing workouts, managing injuries, designing diets and supplement protocols, and training clients. Stark has specialists in all of those categories who are truly gifted in what they do," states Prohaska.
Carrying with him a high level of self-assuredness typically associated with achievement, Prohaska certainly has that and more: he turned around an entire football program at prestigious private, Servite High School in Southern California, and is now doing the same for rival, Mater Dei. "It's great having someone like Scot on the team," says Todd Vande Hei, President of Stark. "He's really one of the best in the country, and fits perfectly into our organization and our mission of getting our athlete clients to their goals in as short a time frame as possible, naturally and legally."
According to Brad Davidson, V.P. of Research and Development at Stark, a public speaker and avid blogger on the topic of nutrition for athletes, "Scot simply takes our effectiveness with athletes to a whole new level. With Stark's ability to induce rapid body composition changes in young athletes, lower stress levels, and improve recovery, Scot's in-depth understanding of the individual needs of varied sports will help us further widen the gap between us and our competitors. I couldn't be more excited."