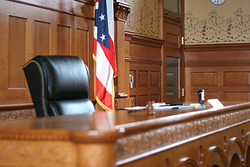 by the time it was offered, our clients' bills were in excess of $100,000.
Madison, GA (PRWEB) July 3, 2010
Sheila Greene was a 42-year-old employee of the U.S. Forest Service traveling from Monticello to Gainsville on July 8, 2003, when a car driven by Steve Spivey pulled in front of her.
"She hit him doing about 35 [mph]," said Eric J. Hertz, one of the Greene's attorneys. "She went to the hospital complaining about her ankle hurting. Then, a few weeks later, she went back complaining about lower back pain."
Over the course of the next three years, Greene underwent chiropractic treatment, epidural injections and, in 2007, surgery to fuse degenerative discs in her back, at which point she had to stop working, he said. She has since had another surgery to remove some of that hardware.
Scott G. MONGE of MONGE & Associates, who filed suit on behalf of Greene and her husband, Philip Greene, in 2005, said the cost of the accident and subsequent treatments continued to rise as the years passed.
"When the case first started off, the initial offer [from Spivey's insurer] was approximately $13,000, "said MONGE. "As the case went on, the client began to have to have additional surgeries… [and] she's been recommended for another, additional surgery."
Eventually, he said the defense offered $100,000 to settle, but "by the time it was offered, our clients' bills were in excess of $100,000."
The case was complicated because Greene already had degenerative disc problems prior to the wreck, and had also been in another car wreck that left her complaining of lower back pains, said Hertz.
Spivey admitted liability for causing the wreck, said defense attorney William S. Cowsert of Athens' Cowsert & Avery, so the only issue for the jury was the amount of damages.
At trial, the Greenes were represented by Herts and his associate, W. Todd Johnson; monge; Eric Hertz's brother Joshua J. Hertz, who practices in Miami and came up at his brother's behest to assist in jury selection.
Following a three-day trial before Alcovy Circuit Superior Court Judge Samuel D. Zoburn, a Walton County jury took an hour and half to award Sheila Greene $800,000; on a separate loss of consortium count, the jury awarded Philip Greene nothing.
"It's very nice to see justice obtained in a rural county the same as any other county," said MONGE, describing the jury as "as a sophisticated, well-educated panel as I've seen anywhere."
"I think what swayed [the jury] the most was the incredible determination that our clients had in trying to live a normal life, despite Ms. Greene being in chronic pain," said Eric Hertz.
"The case was very well tried by experienced attorneys on both sides and a fair and impartial judge," said Cowsert via e-mail, congratulating opposing counsel for an "excellent" job.
"The defendant admitted liability and the only issues tried were proximate cause and damages," he said. "The plaintiff had past and future [medical bills] of approximately $475,000 plus lost wages of approximately $75,000, which the jury obviously believed were reasonable and necessary and related to the collision."
###