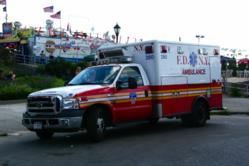 (PRWEB) November 22, 2012
A new study by researchers at the New York City based Hospital for Special Surgery (HSS) is set to give children and teenagers with anterior cruciate ligament damage much needed hope for the future. Co-authors Moira McCarthy, M.D., Scott Tucker, M.Eng., and Carl Imhauser, Ph.D. recently announced the results of their study - the 'all-inside, all-epiphyseal ACL reconstruction' (AE) which is expected to become the industry standard technique for pediatric ACL reconstruction. The website SimplyAwesomeCars.com recently reported the authors made their presentation at the American Orthopedic Society for Sports Medicine (AOSSM) annual meeting in Baltimore in July.
The Awesome cars website picked up on a press release from the Hospital For Special Surgery in their story highlighting how improved medical facilities onboard modern ambulances are helping thousands of teenagers who have suffered from ACL injuries. According to the awesome cars post, the new surgical procedure is only available in a select few medical facilities, it's widely expected to become the standard for ACL reconstruction in children and teens.
The rise in the number of children requiring ACL reconstruction has increased dramatically over the last 20 years. Much of the increase has been attributed to children and teenagers beginning active participation in sports at a younger age than previous generations did. The increased levels of competitiveness, coupled with many children concentrating on only one particular sport has been observed by many pediatricians as the primary cause of the increase in pediatric ACL reconstruction. The new 'all-inside, all-epiphyseal ACL reconstruction' (AE) will give children and young teens the chance to continue their sports programs even after suffering from what was once a career threatening injury.