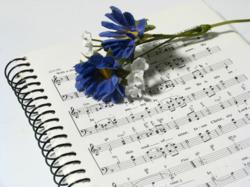 (PRWEB) January 06, 2013
Under the stewardship of new Musical Director Scott Tucker, the Washington DC based Choral Arts Society made the perfect start to the new season according to the music website MusicLoversBlog.com. MusicLoversBlog.com pointed out that the programming choice for the night was extremely unorthodox, but the tasteful selection and superior execution of the music made the night a stellar success.
As reported by http://musicloversblog.com/scott-tucker-makes-new-season-opener-a-success-for-choral-arts-society/ the opening night of the Choral Arts Society included an entirely Latin repetoire, in stark contrast to the expected traditional repetoire of Beethoven, Brahms, and Bach. This interesting departure from the norm delighted the audience and raised expectations for the future of the Choral Arts Society with Scott Tucker at the helm.
According to the Music Lovers article, the concert program at Listner Auditorium included some fine solo performances, praising Brandon Straub on the piano, Carment de Vincente, who performed on the castanets, Pablo Talamante and Deborah Brenner's singing performances, Barbara Vigil who performed a flute piece, Luis Garay who played the Djembe, and a guitar performance by Michael Bard.
The Choral Arts Society was founded in the year 1965 by Norman Scribner. There are over one hundred and eighteen volunteer singers that perform internationally and nationally for the Choral Arts Society of Washington. Since the beginning, the foundation has remained prolific. So far they have produced seventeen recording and have performed with symphony orchestras that demand a great audience due to their leading music appeal.
MusicLoversBlog.com also recognizes Scott Tucker's previous work, and speculates how it may aid in his new position. Scott Tucker previously worked at the 'Milton Academy in Boston' as a music teacher and as an assistant director at the famed Harvard University before he became he joined the Choral Arts Society as their musical director. He has also spent seventeen fruitful years at the Cornell University as an assistant professor and the director of their choral music program. Scott Tucker has many different experiences in performing and preparing larger symphonic works and has over thirty pieces of work commissioned while he was at Cornell. He also saw premiering works that were performed by numerous new composers.
As an independent music news, reviews and opinion website, Music Lovers Blog aims to help people further their appreciation of music. Music Lovers Blog doesn't allow labels and genres to stand in the way of music. If you are looking for an independent objective take on music you can find more information at http://www.musicloversblog.com.