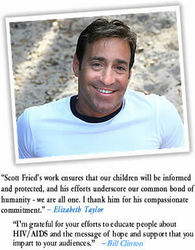 Kids really relate to him well. They appreciate him and they appreciate his honesty. They feel he's a genuine person who is interested in them.
(Vocus) July 16, 2009
He's a speaker, an innovator and a great communicator who has earned the attention of thousands of teens in his travels across the U.S. and the world. Scott Fried, who has been HIV positive for more than 20 years, has launched a new tour that speaks to teens about abstinence, safer sex, self-mutilation, substance abuse and dozens of other timely issues facing kids today.
Fried is preparing to release his newest book in September. He is the author of two other acclaimed books, "My Invisible Kingdom: Letters from the Secret Lives of Teens" and "Talking with Teens about AIDS, Love and Staying Alive." Fried's new book, "A Private Midnight: A Teenager's Scrapbook of Secrets" is a journal for teens, a scrapbook of anonymous answers to questions he has posed to thousands of his students.
Fried has earned accolades from dozens of leaders and organizations around the world for connecting with teens and impacting their lives.
Heidi Tarshish, program director of the Na-asesh V'nishma Program at the Temple Israel in Minneapolis, said that Fried addresses major social issues in a way that engages teens and young adults.
"The messages that he brings to our kids are about really valuing yourself so that you don't put yourself in high-risk situations," Tarshish said. "Kids really relate to him well. They appreciate him and they appreciate his honesty. They feel he's a genuine person who is interested in them."
Marc Gross, 30, met Fried while a teen camp counselor at the Jewish Community Center in Staten Island, N.Y. He credits Fried with helping him through "a difficult time" in his teen years.
"Scott taught me that I was someone…not just important, but also someone who deserved to be loved," he said. "He's the reason I'm proud to say that I waited to have sex. I decided that because he told me to treat my body as something of a temple. I won't let anyone in unless they respect who they are and have the same values."
Emily Lasner, 21, of Minneapolis, has known Fried for eight years. Through his books and speaking events, Fried has the uncanny ability to relate to teens and young adults that leads them to listen and take his words to heart, Lasner said.
"Scott is not only a teacher to teens around the world, but he serves as a hero and mentor for them, and he brings his unique gifts as a speaker and friend to teens and adults alike," she said.
Fried speaks to former President Bill Clinton's office of interns every year.
"I am grateful for Scott Fried's efforts to educate young people and the message of hope and support that he imparts to his audiences," Clinton said. "For eager young people, there is no greater opportunity than the chance to learn from a life devoted to the human interest and to realize the immeasurable dividends when one invests passion, optimism and commitment into his work."
Fried is available for media interviews and speaking engagements around the U.S. To contact Fried, visit http://www.scottfried.com or call 212.465.2646.
###