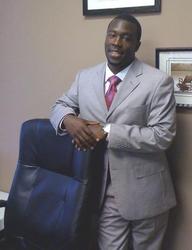 Whenever you can give back to any cause, you really start to understand the true meaning of our business model
Greenville, SC (Vocus) September 19, 2009
Scott Marketing Group, Inc., an independently owned sales and marketing firm, recently raised and donated $500 to the Muscular Dystrophy Association. Their donation assisted in the purchase of a wheelchair and three walkers for four children with muscular dystrophy.
The group of 25 staff members and President Selwyn Scott participated in the community-wide "Lock-Up" event, where they agreed to be "arrested" for having a "big heart." Scott Marketing's goal was to support something greater than themselves.
"Whenever you can give back to any cause, you really start to understand the true meaning of our business model," said Selwyn Scott. "Giving effort, time, and money so that someone else can have a better life is one of the most important things you can do."
Selwyn Scott was picked up in a Lexus-turned-police car, and was then booked, fingerprinted, and detained for two hours. During that time, he made calls for the kids with muscular dystrophy, helping to raise additional "bail money" for items including vaccinations, therapies, and medications.
"My favorite quote is, 'tough times don't last, only tough people do.' Looking at how kids with muscular dystrophy fight to get better and make their daily activities easier for themselves is inspiring," Selwyn Scott said. "Their toughness is very similar to how I live my life and run my business."
About Scott Marketing Group, Inc.
Scott Marketing Group, Inc. is an independently owned and operated sales and marketing firm that has responded to the demand of communication, office supply, and merchant processing clients that are looking for a more effective and personal marketing method. For more information, contact Selwyn Scott at (864) 241-5481 or log on to http://www.scottmarketing.biz.
###