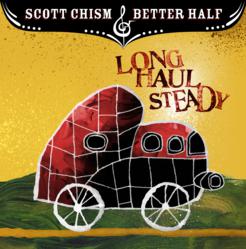 Rooted in the foothills of the Appalachian Mountains, their back porch poetry with its humor and old southern morals is set to a blend of Americana, Folk and Bluegrass that inspires as it entertains. -Sam Miller; Blue Healer Music
Jackson, MS (PRWEB) August 17, 2012
Scott Chism & The Better Half releases "Long Haul Steady"
Scott Chism & The Better Half has been performing their Americana/Folk/Bluegrass/Old Country style since 2008, and they have finally released their long-awaited debut album "Long Haul Steady." Based in Mississippi, the group (led by Scott Chism and Lynsey Terry) has shared the stage with acts like Danny Barnes, Grayson Capps, Shannon McNally, Kenny Brown, and many others. With everything from upbeat, fast-picking tunes to soft, heartfelt ballads, Scott Chism & The Better Half has strong musical influences of Bob Dylan, Emmylou Harris, The Band, and Gillian Welch.
"Long Haul Steady" is a collection of clean-cut country and folk with a rough bluesy edge. Tracks like "Hand Me Down Blues" and "Keep Bearin' Down" have that classic Americana sound, with conversational lyrics and a southern twang. The title track, "Long Haul Steady," is full of soul and emotion, where Chism sings "can you help me remember how to pray, cause I can't make that long haul without you, I just need a steady hand to point the way." Scott Chism's writing has something for every kind of country/folk lover.
"Long Haul Steady" was recorded at Adam Landry's Playground Sound Studio (Deer Tick, Middle Brother, Those Darlins) in Nashville, Tennessee, and produced by Colonel Braden Land and SC&BH. The session brought together Chris Scruggs on lap steel (BR549, Andrew Bird); Jen Gunderman on keys/accordion (Warren Haynes, Steve Earle, Chris Robinson, Dag, The Jayhawks); Molly Thomas on violin/fiddle (Todd Snider, Will Kimbrough); Jon Radford on drums (Justin Towns Earle); and Jake Bradley on bass (Wanda Jackson).
You can learn more about Scott Chism & The Better Half at http://www.scnbetterhalf.webs.com.
If you have any comments or would like to set up an interview, please contact Melissa Zeigler: melissa(at)powderfingerpromo(dot)com.