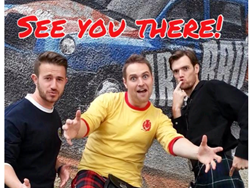 ""after performing to a packed out pub at The Braveheart last year, we knew we had to come back! We've got brand new Skits and Stand-up. Our Kilts are packed, so bring a buddy and get down for some big laughs," says Gerry McLaughlin.
Hellertown, PA (PRWEB) September 09, 2014
Scottish Comedy Night, slated for Saturday, September, 27th, at the Braveheart Highland Pub, 430 Main Street, Hellertown, will feature a trio of young Scottish comics hot from the comedy circuit across Scottland, the UK and Canada.
Billed as a "Threedom," Scottish Comedy Night teams Davey Connor, Chris Forbes, and Gerry McLaughlin.
Gerry McLaughlin is from Glasgow, Scotland, and is a regular on Scottish television, appearing in drama and comedy. He has written on network BBC shows such as "Two Pints..." And "Grown-Ups". He performs on the comedy circuit as 'Gerry McMaster: Cerebral Positivity Retrainer' and comes fresh from the Edinburgh Fringe where he starred as 'William Wallace' in the comedy 'MacBRAVEHEART'.
Chris Forbes, of Bridge of Weir, Scotland, is a critically acclaimed stand up comedian, actor and writer who has starred in and written for numerous TV, radio and stage productions. As a stand up comedian, Chris works regularly on the UK circuit and has also appeared overseas when he starred on The Canadian Comedy Network as part of The Great International Laugh Off which featured comics from all around the world. Forbes is one of the lead actors in the hit BBC Police Comedy, 'Scot Squad' and is also one third of the much praised sketch group, 'How Do I Get Up There?' who have their own TV show airing later this year.
Davey Connor is from Ayrshire, Scotland, and is a stand up comic who has gigged all around the UK and Europe. He has supported a number of major British comedians on tour and will be on tour with his own show 2015. He has also performed and written sketches for radio and has written a sitcom for the BBC.
Last September, the threesome spirited a packed crowd at the Braveheart Highland Pub, inspiring owner Andy Lee, to expand the venue with a dinner option starting at 7 p.m., a Tullamore Dew Irish whiskey tasting, and a "Taste of Scotland" Dinner Buffet. At 9 p.m., the comedy will begin with non-stop skits, stand up and more.
Tickets are $40 for the dinner, tasting, and performance; and $20 for the performance only at 9 p.m. For more information and ticket reservations, call Braveheart Highland Pub at 610-838-6555, or visit http://www.bravehearthighlandpub.com for more information.
###